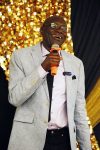 Legendary Kenyan broadcaster, Fred Obachi Machoka, told Kenyans abroad not to forget their humble beginnings and the role their communities played in helping them escape poverty.
"I know a lot of you here were brought up by parents and guardians who had nothing," Machoka said.
Machoka was speaking on Sept. 23 at the Minneapolis Marriott Northwest Hotel in Brooklyn Park, during his keynote address at DEAR Awards, an annual ceremony that honors heroes in the Kenyan diaspora for their contributions to their community. While speaking about hope, Machoka had the audience in stitches with his humor that Kenyans have gotten used to over the airwaves during a career that has lasted nearly 50 years.
"When Dr. Pam (the founder of DEAR Awards) told me that she wants me to talk to you, I asked, 'What can I tell people who are more educated than me, more exposed than me, people who have more money and more networks than me?' She said, 'Give them hope.' But I am hopeless," he said, and the hall erupted with laughter. "The only hope I can give you is that you guys here in the Diaspora are the hope of the people back home."
Machoka said that he knew that a lot of people in the diaspora had tough lives growing up in households with parents and guardians who had very little and had to scrape by to provide for their children. Some parents were even forced to engage in the brewing and selling of illicit alcohol to pay for their children's education, he said.
"There are others who did not even have parents but are here courtesy of the community back home," he said. "People fundraised to get you here. Those same people are looking forward to you assisting."
Despite facing those difficult circumstances, Kenyans continue to have an influential presence in Minnesota. According to the United States Census Bureau, Minnesota has the highest concentration of Kenyans of any state in the country. International Kenyan businesses and the government haven't failed to notice the growing population of Kenyans in the state. Kenya Airways, the country's flagship carrier, for example, has made it easier for Kenyans in the Twin Cities to connect to its daily direct flight from New York to Nairobi. The Kenyan embassy also increased access to consular services for citizens in the state. But community members say many of its accomplishments often go unrecognized. Ceremonies like the DEAR Awards are the community's way of honoring those making positive societal impact.
"Every time I come here and see all of you, I get goosebumps, because I can see that you believe in the dream," Pam Mogaka, the event's founder said.
Hollies Winston, Brooklyn Park's first Black mayor, said the event was a reflection of how his city had become "a special place" and a melting pot of cultures, adding that he hoped to see Black excellence continue to be promoted in the future.
"When we recognize how talented we are and what we can do together, we realize that nothing can stop us," Winston said. "That all begins with awards like this."
Lyna Nyamwaya, a registered nurse and founder of The African Nurses Network Inc (TANN), won the event management award for hosting the inaugural Entrepreneurship and Leadership Conference earlier this year, the key takeaway from the event was that a spirit of togetherness is essential to a flourishing community.
"Cherish relationships," Nyamwaya said. "It doesn't matter how much money you make. The way you interact with people is your social capital."
Community member Esther Obiri sat smiling as she tuned into the performances. She said she was happy to connect with old and new friends at the event and celebrate the victories.
"I came to support the event and celebrate the people who are getting awards," Obiri said. "It is good that Kenyans can have [award ceremonies like the DEAR Awards]."
Machoka said he admired the work that went into setting up the ceremony, and the people who came from far and near to be in attendance. He said he would like to see the event continue to grow, and even proposed a future conference in Kenya.
"I like the effort to try and have a conversation about Kenyans, the challenges people have back home and in the diaspora," Machoka said.
He spoke about the importance of uniting the Kenyan diaspora with those back home in Kenya to discuss various issues and to help correct myths about life in the west. He explained that many in the motherland believed that their compatriots living overseas do not have financial struggles.
But Machoka acknowledged that there are Kenyans in the diaspora who have done very well for themselves. He challenged them to go beyond helping their families and do more for their neighbors.
"You could build your uncle the best house, or buy your aunt the best car, but by helping these people, you could be endangering them," he said as the audience gasped. "Why do I say that? If you're helping your mother, and she becomes the only [oasis] in a dry area, people will be looking and saying, 'That lady thinks she's big stuff."
Machoka said that instead of building fences, keeping guard dogs and hiring security to protect their relatives around the clock, they should invest in others in the community, so their parents don't live in places that are surrounded by too much poverty.
"Let's not just keep sending money," he said. "Let's look at projects that can create jobs for more people."

Panashe is a general assignments reporter.





(1 votes, average: 5.00 out of 5)


Loading...