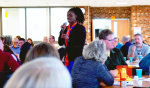 A new conference comes to the Twin Cities this weekend to give aspiring and current young entrepreneurs the opportunity to learn from those who have been successful owners of businesses.
Lyna Nyamwaya, an award-winning registered nurse and founder of The African Nurses Network Inc (TANN), will host the inaugural Entrepreneurship and Leadership Conference, which is scheduled at 5 p.m. on Saturday March 18, 2023, at the DoubleTree by Hilton hotel in Minneapolis. Nyamwaya, who will also be holding a signing event for her new book "Leading with Cultural Humility," said the event is geared toward both aspiring and seasoned business professionals looking to catapult their careers to new heights.
"This event is directed at young people," Nyamwaya said. "We need to make sure they do better than us."
Mentorship can be the difference between a business succeeding or failing. A study by Virgin StartUp, which helps founders scale up their businesses, found that 75% of those who went on to build successful businesses relied on professional mentors. But only about 40% of newer business owners do the same, according to the study. Nyamwaya said that her conference will be an opportunity for businesspeople from all walks of life to learn, grow, and mingle.
"For anyone starting a business, and especially young people, you want to learn from anyone who has already succeeded," Nyamwaya said. "African wisdom says, 'Listen to the people who have walked the path.'"
Nyamwaya, who was born in in Kenya, has spent 22 of the 26 years she has been in the United States working as a nursing professional, said that she is passionate about leadership. A champion for health care equity, she founded AAN in 2015 to empower African women in healthcare. Being a Black woman and immigrant herself, Nyamwaya said that the disparities she witnessed in the healthcare field resonated with her deeply. Her new book offers a roadmap to changing the future of healthcare equity, including 12 principles organizations can employ to promote diversity, equity, and inclusion in the workplace.
"Until the lion learns to write, the story will always glorify the hunter," Nyamwaya said, quoting renowned Nigerian author, the late Chinua Achebe. "Nursing books are often written from a western perspective. My goal is to write more and bring change and create better world."
Information regarding tickets, parking, and transportation to Saturday's event can be found here.
Panashe is a general assignments reporter.





(No Ratings Yet)


Loading...