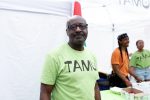 The unmistakable mouthwatering aroma of east African food filled the air around Nicollet Avenue and 13th Street. It was the aroma of food from the tent of TAMU Grill and Catering, a restaurant in Minneapolis that specializes in African food, mostly from Kenyan.
At the tent, George "Jojo" Ndege, TAMU's owner, and his team were busy trying to keep up with the demand from dozens of hungry festival goers. Ndege dished out plates of the Kenyan food, including the beef samosas that have earned him fame in the Twin Cities' African community. Also served were his popular fries and Kenyan sausages that could be ordered as a combo.
Ndege took a brief break from serving food so that he could restock some of his sold-out dishes (which eventually included beef samosas) to keep up with the growing number of people lining up for food. Upon his return, he took a moment to express the joy he got from sharing a piece of his culture through food.
"You see these lines?" Ndege asked. "I am happy to be here giving Minnesotans a taste of Africa."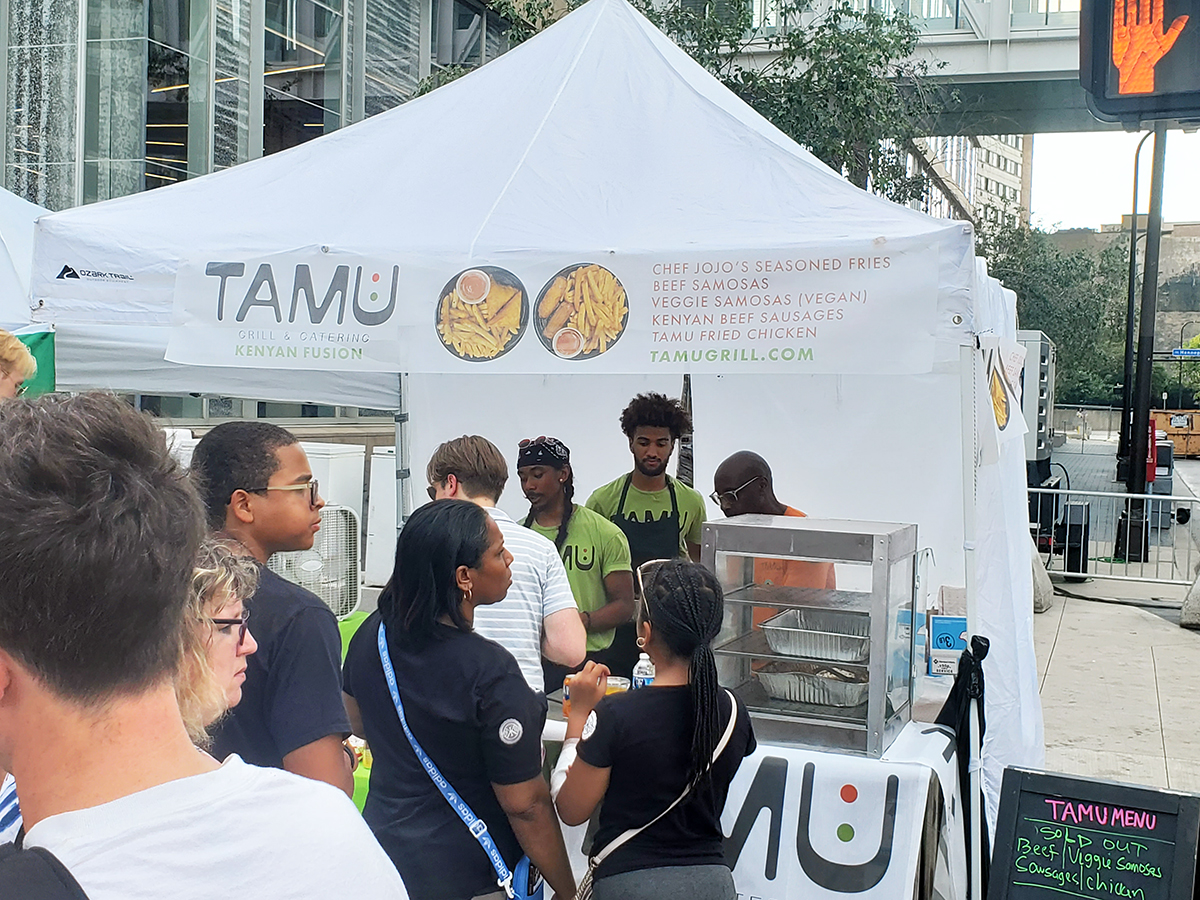 Ndege was one of a handful of entrepreneurs of African descent who were invited to "Taste of Minnesota," a festival held the weekend before the July 4 holiday to give residents a chance to engage with a variety of products, arts, and cuisines from the state's diverse communities. For African entrepreneurs like Ndege, such events present opportunities to promote their businesses beyond their modest communities without having to spend thousands of dollars in advertising.
"It helps create awareness about our food, the restaurant, and catering business to new audiences," Ndege said.
A study published in 2022 in the journal American Economic Review found that immigrants were 80% more likely than U.S.-born citizens to start a new business. The research, which examined data from Fortune 500 companies and the U.S. Census Bureau data, also showed that companies founded by immigrants created 1% more jobs. But they aren't just small businesses, according to New American Economy, a bipartisan research organization that advocates for local, state, and federal government policies that are friendly to immigration. In 2018, a study from the organization found that 45% of Fortune 500 companies were either founded by immigrants or their children.
While this is encouraging, Black entrepreneurs also encounter more barriers to founding and building successful businesses than their white counterparts. Funding is often the most common of those challenges, according to the U.S. Chamber of Commerce, which found that in 2021 only about 1.2% of venture capital went to Black entrepreneurs. These challenges became even more apparent during the coronavirus pandemic, when, according to the Brookings Institution, 92% of Black businesses reported experiencing financial hardships.  In comparison, 89%, 85%, and 79% of Asian American, Hispanic American, and white American business, respectively reported having hardships. Black entrepreneurs must come up with creative ways to circumvent these obstacles.
"[We have had to] adjust to post-COVID customer eating habits such as more third-party deliveries and less dining in," Ndege said.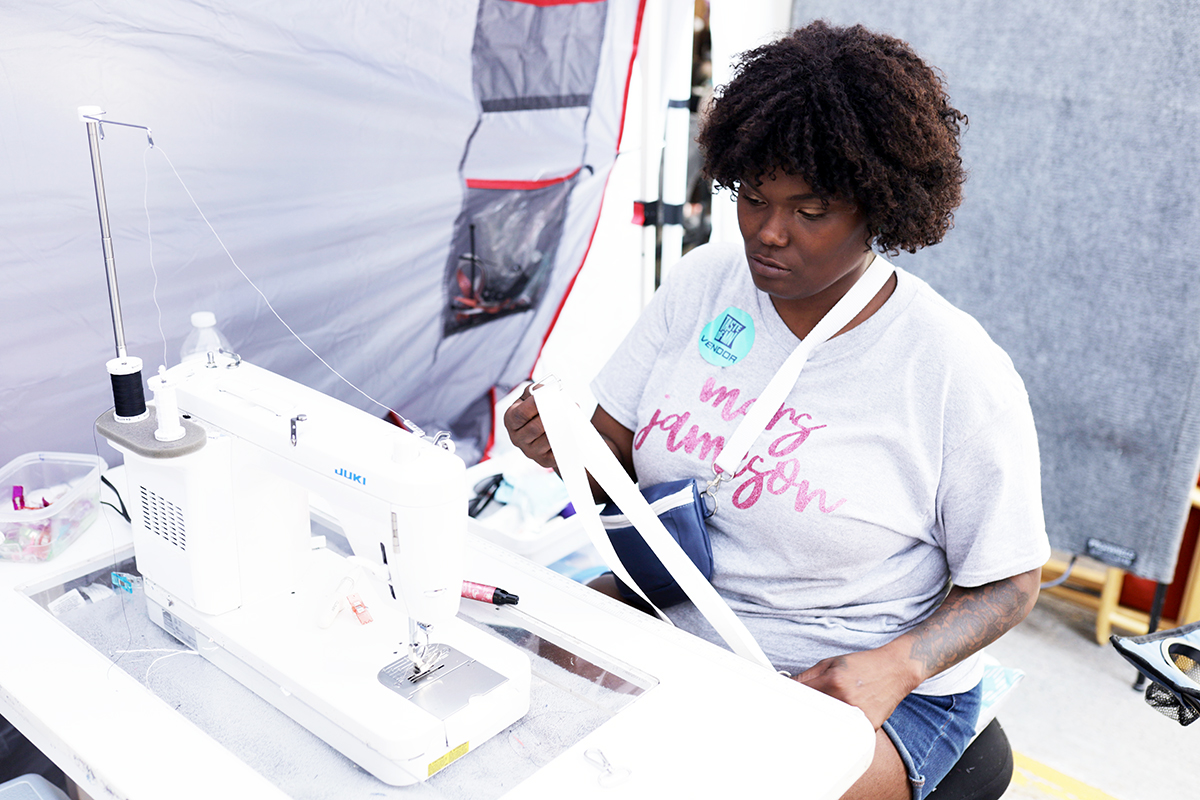 Getting U.S.-born customers to go to Tamu and sit down to eat is even more challenging because Kenyan food isn't as well known in the United States as, say, Ethiopian food. Having a tent at a festival, on the other hand, gives potential customers the opportunity to sample new food in small quantities before hopefully going into the restaurant or using his catering services.
Crowds of people at Taste of Minnesota endured the sweltering heat as they waited in line to taste food from different vendors. Alyssa Huber, who took the day off from her hospital job, sat on the lawn adjacent to the stage to enjoy musical performances that included a highly anticipated set from Big Boi of the group OutKast.
"I'm excited to try all the food," Huber said. "I think this is a great way to kick off the fourth of July weekend."
But it wasn't all about food. For Mo Stewart, it was a chance to bring a taste of fashion to the festival. Tucked away in a street designated as Artist Alley, Stewart sat at her sewing machine, creating one of the handbags she sells under her brand, Mars Jameson, which has a store at the Mall of America. Stewart said she learned how to sew at a young age by making clothes for her Barbie dolls. When she got older, she received her first sewing machine and started making clothes, but quickly realized she did not enjoy it. She started making handbags in 2016 and founded Mars Jameson to market them.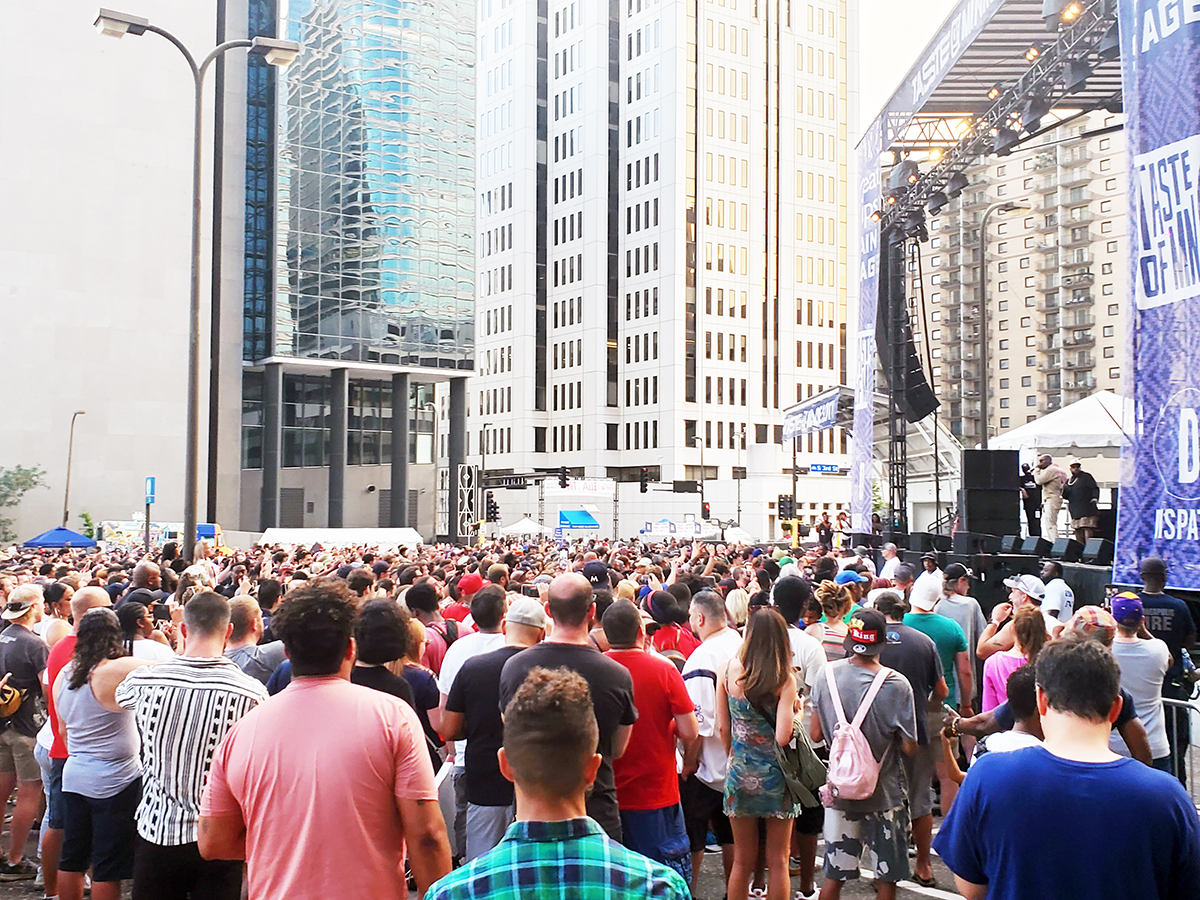 "It's so cool to be here as a Black-owned business, just doing what I love," Stewart said.
Another vendor, Racquel Bundi welcomed customers to the tent of her company Dipp'd In Hunnie, which sells body butters and oils. She said she was inspired when she became frustrated by the lack of results when treating her daughter's eczema with prescribed medication. She had been going to the doctor for years for help with her child's condition but found the medications to be mostly harsh and ineffective. When she decided to make her own products, she said she saw an improvement in her daughter's skin. She believes that her handmade products are gentler on the skin, especially for babies and children with skin conditions like her daughter.
"I hope others can benefit from my product," Bundi said.
Despite the challenges, Ndege said he couldn't have it any other way. Like many African immigrants, he came to the United States aiming to get a university education and live the American dream through a white-collar job. He achieved that goal but after several years of working in a corporate job, he found it unsatisfying.
"I have never been a white-collar person," he said.
In 2021, Ndege opened a restaurant named Kilimanjaro Grill and Catering, which he said he was inspired to start when he noticed a lack of authentic Kenyan cuisine in Minnesota, even though the state is home to nearly 20,000 immigrants from the East African country. Last year, Ndege changed its name to Tamu, a Kiswahili word that means "delicious."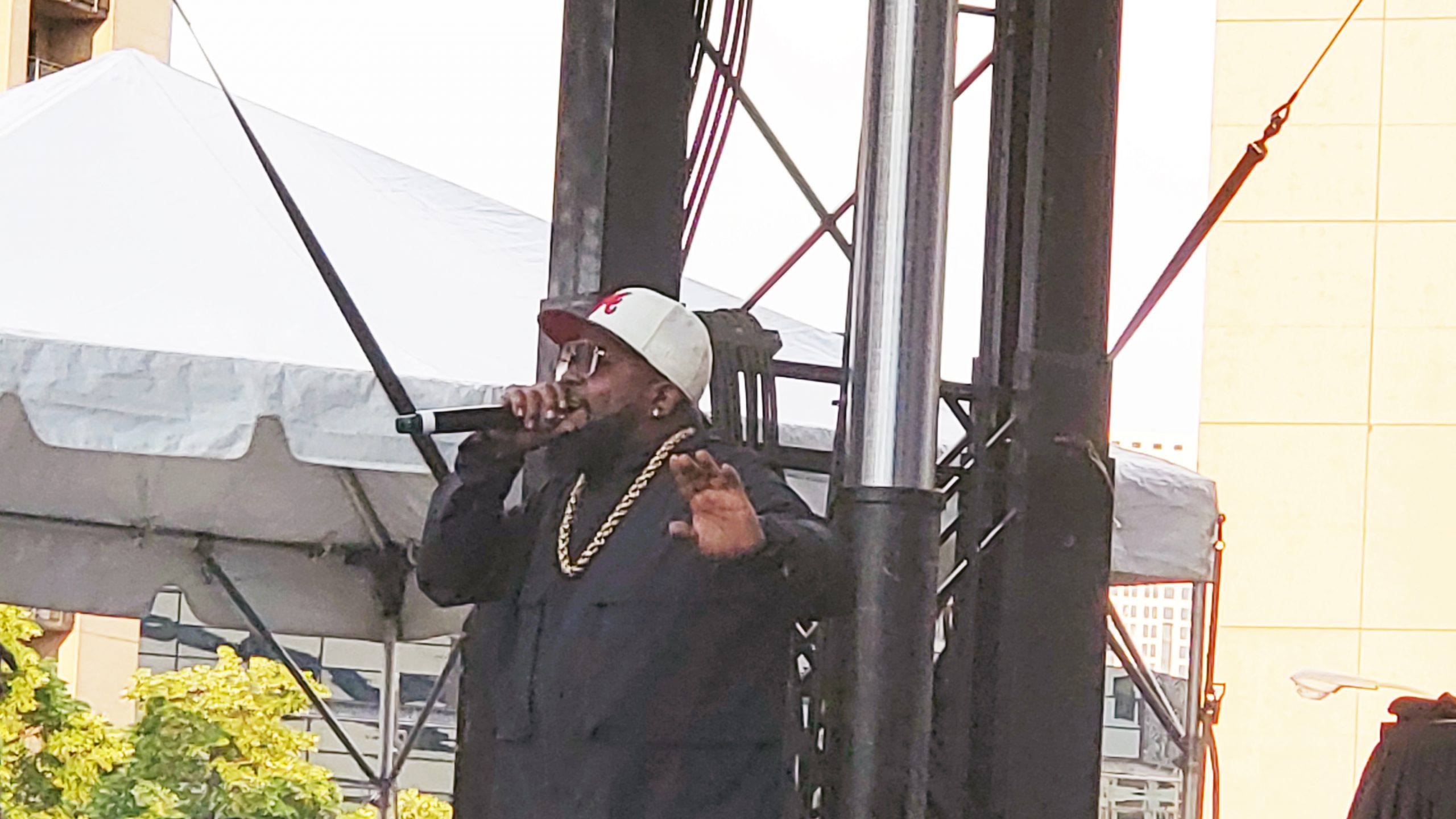 "The restaurant business is probably the most challenging to start and grow," Ndege said. "It's labor and capital intensive. For those interested in it, they must be willing to give up their social lives. There is no way around it."
Despite the challenges, Ndege says he's determined to make his restaurant and catering business a success by taking the food to where people are, instead of waiting for them to find his restaurant.
"It is critical that immigrants and minorities own their businesses to create generational wealth," he said.
Ndege has spent the summer taking his food to festivals across the state, sometimes leaving for several days. And in this month of August, Ndege is competing in the 2023 Twin Cities Vegan Chef Challenge, which encourages foodies to visit various restaurants, sample their dishes, and vote for them online. For the competition, Ndege will serve a coconut curry rice dish Friday to Sunday from 3 p.m. to 8 p.m. at Tamu Grill and Catering, located at 1829 Riverside Ave, Minneapolis. The winner of the competition will be named in September.
Panashe is a general assignments reporter.





(1 votes, average: 5.00 out of 5)


Loading...