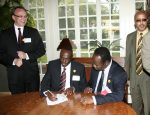 In celebration of 35 years of promoting literacy, Books for Africa (BFA), the world's largest shipper of donated books to Africa, will be hosting their 35th Anniversary Gala on Wednesday, September 13. Themed, "A Book for Every Child," the event will be held at The Depot in Minneapolis and will introduce an upcoming Rotary International project to ship more than 100,000 books to South Sudan.
"I hope the attendees of this event will gain a perspective of how far Books for Africa has come and all of the people we have helped over the past 35 years," BFA Executive Director Patrick Plonski said.
The World Population Review reports that 9 out of 10 least literate countries in the world are in the African continent. Only 67% of people in Sub-Saharan Africa can read and write, according to the World Bank. But the number is a significant improvement from the 49% recorded in 1985, thanks to organizations like BFA, which as has shipped more than 57 million books to every country in Africa since its founding in 1988. Plonski said he is proud to be a part of the success story, citing that BFA is now in the top 3% of charities in the US.
"This gala is an opportunity to take this all in to perspective and celebrate"! Plonski added.
This year's keynote address will be delivered by South Sudan's ambassador to the United States since 2018, Ambassador Philip J. Natana. The ambassador will speak about BFA's new distinction as a Preferred Partner of the US Department of Defense Funded Transportation Program. This designation will reportedly allow BFA to ship 5 containers to South Sudan, a nation that particularly lags in literacy rates. Plonski said he is excited to reveal what's in store for BFA and the people the organization serves.
As of the time of this writing, two other ambassadors have also confirmed their attendance and will speak at the gala, Her Excellency Elsie Sia Kanza, ambassador from Tanzania, and Her Excellency Robie Kakonge, ambassador from Uganda.
Emmy Award winning actor T. Michael Rambo will host and also provide the music.
"This initiative harkens back to our roots, but also brings something new with the DOD connection," Plonski said, "The Ambassador will help us celebrate this."
Per the website, the event will feature dinner, music, and a chance to connect with BFA supporters from various corners of the globe. To purchase a ticket, follow this link.
Panashe is a general assignments reporter.





(2 votes, average: 5.00 out of 5)


Loading...