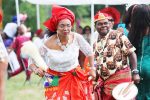 Umunne Cultural Association in Minnesota held the 28th annual IgboFest on Saturday on the grounds of North Hennepin Community College. The festival celebrates the culture and heritage of the Igbo people who hail from south-central and southeastern Nigeria.
Umunne means children of the same mother.
Over 1,000 festival-goers attended this year as they tapped their feet to the beat of the igba (drum), oja (Igbo flute), ogene (bell) and many other musical sounds delivered via playback music by DJ Aza: and they took in captivating dance performances by adults and children, numerous colorful masquerades shows and authentic Nigerian food sold by vendors behind the festival grounds.
The official start of the festival was Saturday but the previous night is when the weekend celebration kicked off with a gala at the Brooklyn Park Community Center featuring a saxophone live performance and beauty pageant anchored by comedian MC Chaz. On Saturday, the revelry just picked up where it left off the previous night.
Nigerians along with Somalis, Ethiopians, Liberians and Kenyans, are among five of Minnesota's largest African immigrant communities.
Until 2005, the state's IgboFest celebrations had been held indoors. That changed in 2005 when the first outdoor festival was held on the grounds of St. Thomas University in St. Paul. It has been forced to go indoors on one occasion but it has stayed outdoors since then with spectators sitting in a circle so they can easily interact with the performers.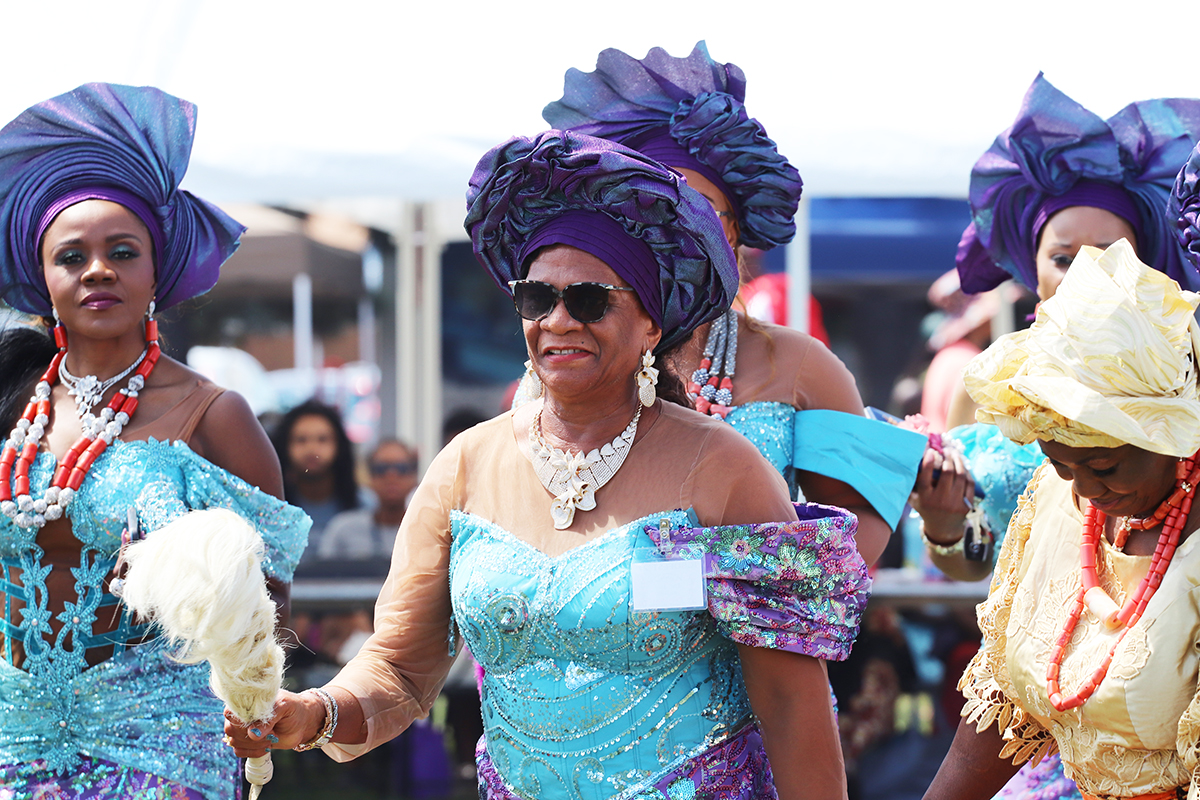 "With the powers vested in me as the chairman of the planning committee of this year's festival I hereby declare IgboFest 2023 open," said M. Peter Egbudom flanked by his wife on the left. Dressed in a stylish Nigerian Senator suit, red fez-like hat and red linking chain, Egbudom was described as "fearless and charming" in his chairmanship of this year's planning committee by Dr. Mrs. Jane Nwaudo, president of the Umunne Cultural Association in Minnesota.
But before the festivities could properly begin elders had to crack the kola nuts to honor the ancestors and welcome everyone to the occasion, a required part of any important Igbo and most Nigerian ceremonies.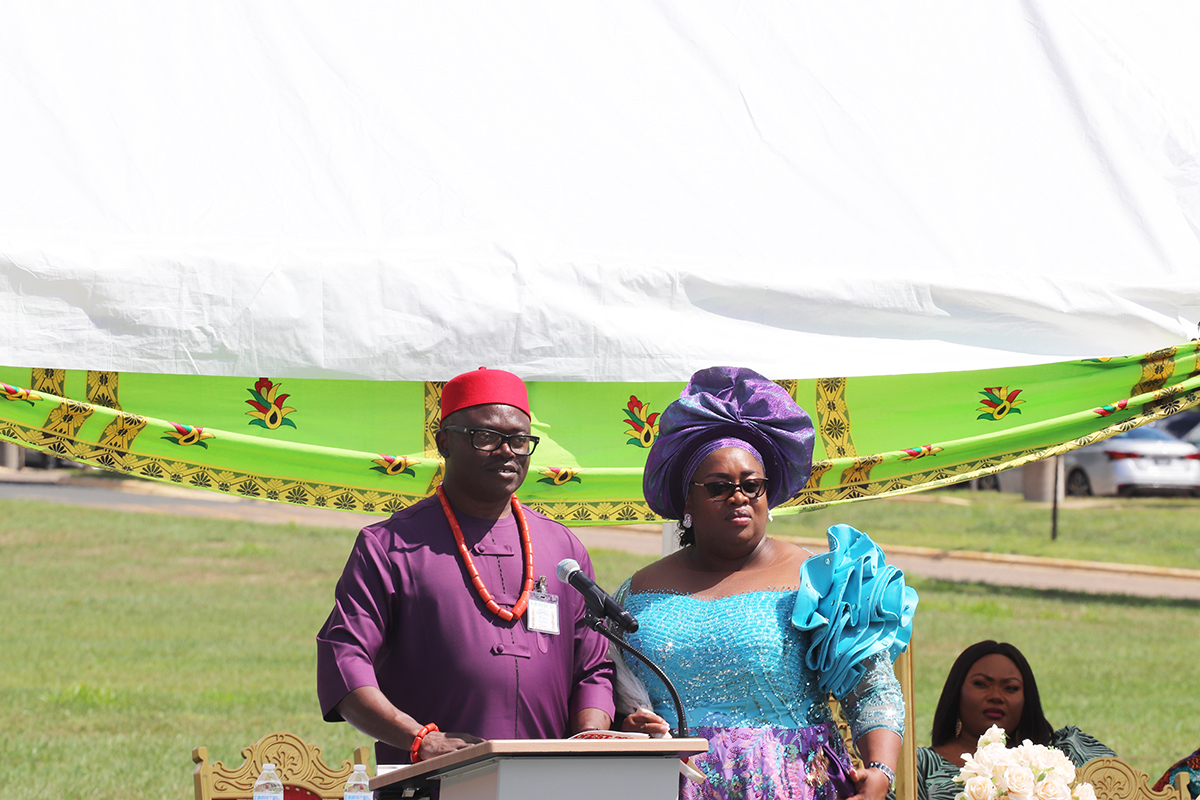 The festival drew visitors from across the city, state and the globe, most notably from Canada. For years, Umunna Association of Winnipeg, Manitoba and Minnesota's Umunne Cultural Association have had what the two organizations call a "special relation" where they send representatives to each other's festivals and that tradition continued on Saturday. Umunna means children of the same father.
In between dance groups, masquerade shows were used to transition to the next group, and they have become one of the many highlights for festival goers over the years. Masquerades are an important aspect of Igbo culture and are believed to embody the spirits. The masked costumed figures usually appear at weddings and festivals like IgboFest.
On Saturday, children oohed and aahed as the masquerades performed, walking to specific people and appearing to be admonishing, or telling them something and at one time sent some of the children scampering out of fear as they did a mock charge.
This year's theme was "Promoting Cultural Diversity" and among those invited were children from the Hmong Cultural Center's Qeej group who presented a cultural dance using the qeej, a traditional Hmong musical instrument.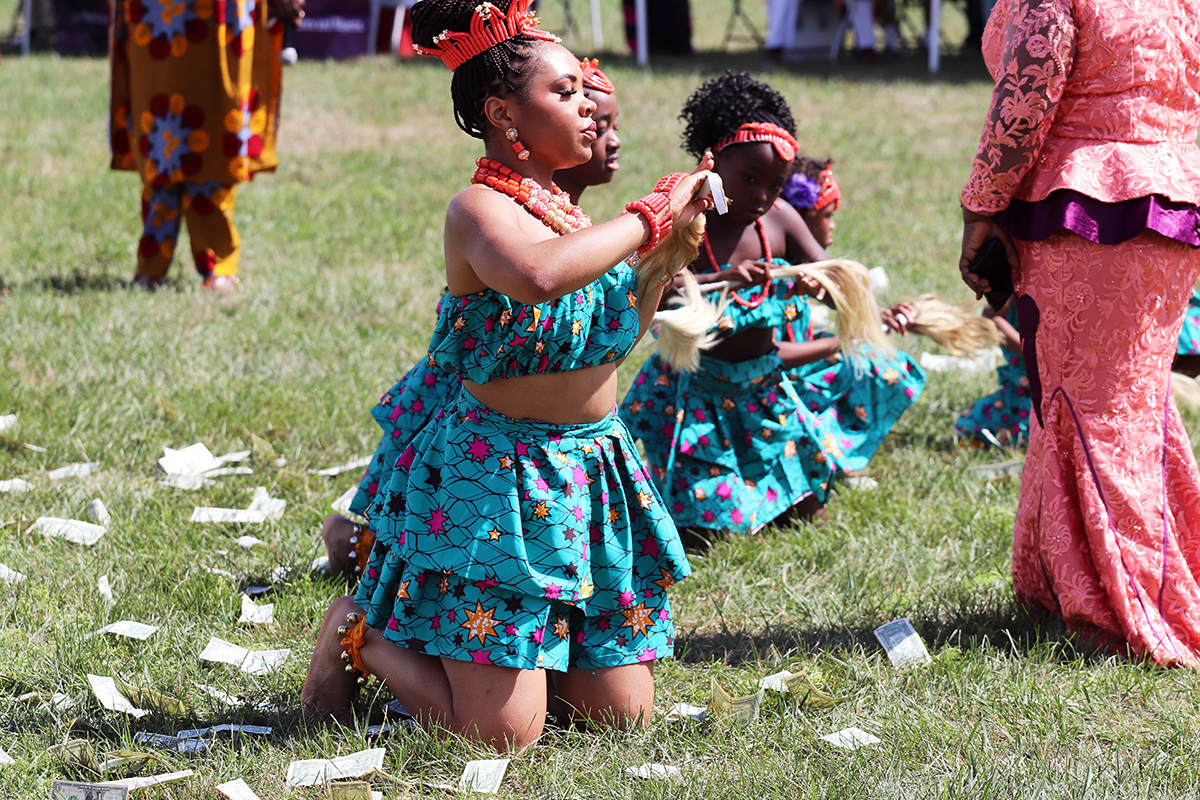 Mr. Jude Nnadi, a businessman originally from Nigeria, now living in neighboring Brooklyn Center, is one of the dozens of vendors with vendor booths at the festival.  His booth was showcasing his latest venture that was launched last month, Equitable Development Action, a community-based organization CBO.
"Being here (at IgboFest) is what allows organizations like ours to connect with our people that we are trying to serve," Nnadi said.
Elected officials that were present during the five hours that Mshale was at the festival included U.S. Rep. Dean Phillips of Minnesota's Third District, which includes Brooklyn Park, and Mayor Hollies Winston who was attending his first IgboFest as mayor of Brooklyn Park. He was accompanied by his wife Latrice.
"This diversity (IgboFest) shows why Brooklyn Park is the best place to live in," Winston said. At the July 24 City Council meeting he issued a proclamation declaring August 12 as "Igbo Day" in Brooklyn Park.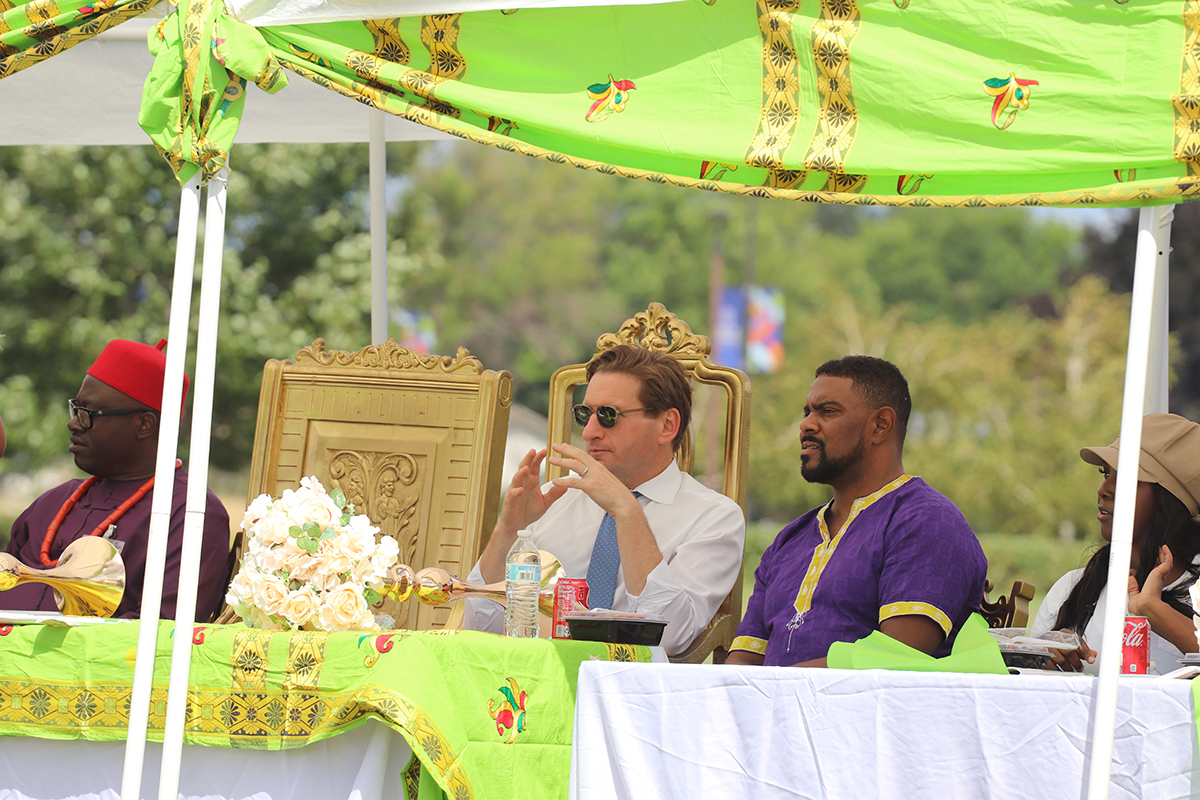 "I have been coming to IgboFest since before I could walk," said festival attendee Ms. Monica Nkwocha, a senior at Champlin Park High School. "So the culture has been passed on to us 100%."
Nkwocha said participating in IgboFest is part of a long family tradition and she has been part of the dancing teams that showcase Igbo culture during her growing years. She has risen to become one of the instructors for the young dancers, she said. "I have been part of it for a long time that I have learnt some new dance moves that I pass on to the young ones," Nkwocha said.

Born and raised in Kenya's coastal city of Mombasa, Tom is the Founder, Editor-in-Chief and Publisher of Mshale which has been reporting on the news and culture of African immigrants in the United States since 1995. He has a BA in Business from Metro State University and a Public Leadership Credential from Harvard's Kennedy School of Government. He was the original host of Talking Drum, the signature current affairs show on the African Broadcasting Network (ABN-America), which was available nationwide in the United States via the Dish Network satellite service. On the show, he interviewed Nobel laureates such as 2004 Nobel Peace prize winner, Professor Wangari Maathai, the first woman from Africa to win the peace prize and heads of states. Tom has served and chaired various boards including Global Minnesota (formerly Minnesota International Center), the sixth largest World Affairs Council in the United States. He has previously served as the first Black President of the Board of Directors at Books for Africa. He also serves on the boards of New Vision Foundation and the Minnesota Multicultural Media Consortium. He has previously served two terms on the board of the United Nations Association. An avid runner, he retired from running full marathons after turning 50 and now only focuses on training for half marathons.





(1 votes, average: 5.00 out of 5)


Loading...