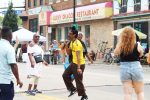 Open Streets, an annual event that started in 2011 to make Minneapolis streets accessible to walking, biking, rolling, and community engagement, may not return next year.
The event is organized annually by Our Streets, a non-profit organization that advocates for the construction of new streets that are pedestrian and cyclist friendly and the conversion of old ones to allow people to safely walk streets in their neighborhoods. It temporarily closes major thoroughfares to car traffic allowing residents to bike, walk, and connect with neighbors. It has five different series planned for 2023 in five different neighborhoods throughout the year. On Sunday Aug. 20, the nonprofit organization held Open Streets in the Cedar-Riverside neighborhood.
"Our route selection is equity, especially [equity] in folks' access to public space, and the impacts that different neighborhoods experience of highways of transportation that only centers cars and doesn't think about the other ways that folks get around," said Ember Rasmussen, a senior manager for community development and events at Our Streets Minneapolis, including one in the Cedar-Riverside neighborhood.
Construction of major highways has often run through neighborhoods where nonwhite people live, displacing their businesses and disrupting the way they move around where they live. According to "HUMAN TOLL: A Public History of 35W," an exhibit at the Hennepin County History Museum, 80% of Black residents lived where I-94, 35W, and Highway 55 are now routed, displacing 6,000 businesses in St. Paul alone.
One of the largest projects the Our Streets is advocating for is the Twin Cities Boulevard, an initiative that aims to convert the 7.5-mile Interstate 94 freeway between downtown St. Paul and downtown Minneapolis with a "multi-modal" boulevard that's friendly to pedestrians, bicyclists, and other nonmotorized traffic.
In addition to creating safe car free spaces, Open Streets boosts businesses located along the routes by directing to them a larger number of potential customers to them. Cedar-Riverside, for example, is home to many small businesses owned by African immigrants, which make up more than 55% of the population, according to Minnesota Compass. They include businesses like the Kenyan restaurant Tamu Grill and Catering, Afro-Deli, and Red Sea Ethiopian restaurant.
"African immigrants have made Cedar-Riverside what it is today," said George "Jojo" Ndege, the owner of Tamu Grill.
The West Bank area has been a place where people identify with reggae and African music, said Salif Keita, who along with Ndege, hosts "African Rhythms" a music show on West Minneapolis's KFAI Radio. There were stages with musical and storytelling performance featuring local Minneapolis-based African artists Innocent Galinoma, Fanaka Nation, Carolyne Naomi, and Papa Shalita, a celebrated African musician in the Twin Cities, who got his start performing in Cedar-Riverside.
"This neighborhood breaks the barriers of apartheid, because there's no apartheid in this neighborhood," said Shalita.
Fanaka, who also has deep ties to Cedar-Riverside, said it was important for him to come back to where he grew up, and where his family's restaurant, Tamu Grill, is now located, to represent the cultural elements of his diasporic upbringing.
"Community, I feel like, starts here, especially with hip hop, and now Afro beats," said Fanaka, who is the son of Ndege, the owner of Tamu Grill. "It's really about raising your flag."
Throughout the course of the day, the Red Sea stage gave place to numerous performances, most notably from Innocent Reggae Band and Mixed Blood Theater, Minnesota's first multi-racial theater company, filling the streets of Cedar-Riverside with uplifting dance music and community building.
"Our role was to make sure that everybody's included, including African acts," Ndege said of the entertainment schedule.
The event closed Cedar Avenue between Third Street South and Sixth Street South, and Riverside Avenue from Cedar Avenue to 19th Avenue South. It was the third of five planned throughout the city of Minneapolis. The remaining two Open Streets events will take place on Sept. 16 and Oct. 8 in the neighborhoods of West Broadway and Lyndale, respectively, from 11 a.m. to 5 p.m.
Unfortunately, those might be the last Open Streets events. Open Streets events have been held in collaboration with the city of Minneapolis, but on Aug. 21, the city's Public Works Department announced that it was ending its partnership with Our Streets.
They are two more Open Streets events planned to conclude the 2023 series, one for West Broadway on September 16 and a final one on Lyndale on October 8.
"The decision to end the Open Streets Minneapolis program is in direct conflict with City policy goals," Our Streets said in a statement.

Milkee is a general assignments reporter.





(No Ratings Yet)


Loading...