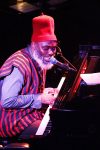 Although the full moon was making its second appearance of the month on August 30th, Nduduzo Makhathini was making his first appearance at The Dakota, Lowell Pickett, owner of the venue assured me.
Jazz pianist, maestro of both his genre and instrument, sat down at the Steinway piano Wednesday evening and began murmuring what sounded like a prayer. Neither of the other two musicians made a noise, only Makhathini reciting in a low voice, Zulu words that few in the audience could understand.
Then the string bass was stroked and the drum set pattered until a song burst forth, dissonant, disjointed, and very jazzy.
Makhathini's voice wove in and out with the piano keys neither producing a melodic tune, yet urging the piece forward.
Makhathini said to me earlier that "if you have the most beautiful room, you tend to sound good because it becomes a beautiful dialogue between the place and the musicians and the songs." Such was the case that evening, a dialogue based on the songbook and album, Spirit of Ntu at the Dakota under a blue moon.
It also becomes a beautiful dialogue between the audience and the band, a band comprised of Nduduzo Makhathini and two other consummate musicians, drummer Francisco Mela of Cuban origin now living in Boston and fellow South African bassist Zwelakhe-Duma Bell le Pere.
Makhathini held our attention not only for his skill on the keyboard, but also in his attire. He wore a bright red tarboosh or fez, but without any tassel. His tunic vest was navy and red vertical stripes over a blue shirt and pants. His Nikes were a fresh white as was his beard in contrast to his dark black coif.
The second number, Izinkonjana, featured each musician and included Zulu lyrics and dancing even by Makhathini. This music from South Africa was such a contrast to the opening band, Suitor.
The warm-up band lead by trumpeter Decarlo Jackson was a mirror image of Makhathini. Where Jackson was relaxed and played in a colloquial undemanding style, Makhathini was intense and complex and challenging. Suitor's music was easy to love because it was easy on the ears. Makhathini's offerings confronted the listener and the hard-won gift of following along created immense satisfaction as if one solved the Grandfather Burr puzzle resolving its interlocking blocks.
Makhathini turned to the audience after the fourth number and launched into a mini-lecture providing context for his music. He referenced the displacement of people in Africa and lost culture, lost customs, and lost lands, leaving people adrift.
The fifth song reflected his spoken word perfectly with each musician playing their instrument often in conflict with one another, jumbled and seemingly disorganized, but then coming together in synchronistic harmony until they move apart only to dovetail again and again. As if they are working together in an auditory roulette creating aural hypo- and epi-trochoids.
The evening ended with Makhathini giving us an extra gift. He sang about rain, which our drought-battered state needs right now. The drums mimicked raindrops and rumbling thunder. Makhathini coaxed the audience to sing along in Zulu.
Susan is based in Minneapolis and reports on general assignments for Mshale with a focus on entertainment. In addition to reporting, she is also a writer, poet, teacher and coach.





(1 votes, average: 5.00 out of 5)


Loading...