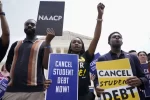 Due to the pandemic, federal student borrows have not had to make payments for over three years, but the freeze is ending soon. The loans will start accruing interest today (September 1) and payments on the loans will resume in October.
The conservative Supreme Court on June 30, 2023 blocked President Joe Biden's student debt cancellation plan to forgive up to $20,000 and borrowers will soon have to start paying. Those voting against Biden's plan included Supreme Court Justice Clarence Thomas who in his 2007 memoir "My Grandfather's Son," wrote of the "crushing weight" of his own student loans.
According to the U.S. Department of Education's StudentAid.gov website, borrowers' first payments will resume in October 2023 and one should expect to "get your bill, with your payment amount and due date, at least 21 days before your due date."
The Biden administration immediately following the Supreme Court reversal announced the launch of a new income driven program called SAVE that replaces the current Revised Pay As You Earn (REPAYE) plan and some borrowers could see their payment being $0, the administration claimed.
Visit the federal website to learn on what you need to do and more information on SAVE at this link and while there, make sure to click on Prepare for Student Loan Payments To Restart.





(No Ratings Yet)


Loading...