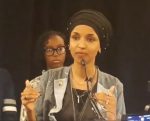 Ilhan Omar, who two years ago made history by becoming the first Somali-American ever elected to a US state legislature, made history again Tuesday when she notched up more firsts by winning the Minnesota fifth congressional to become the first black person born in Africa to be elected to the U.S. Congress.
Along with Rashida Tlaib of Michigan, Omar and the Detroit-born Palestinian-American Tlaib will also become the first two Muslim women to serve in the U.S. Congress. Omar is a refugee who spent four years of her childhood in a refugee camp in Kenya. She succeeds Keith Ellison, who was the first Muslim to serve in the U.S. Congress. Ellison opted to run for Minnesota Attorney General which he won, making him the state's first black Attorney-General.
"I could not standby on the sidelines and see the promise of America not being kept," said Omar as her husband, Ahmed Hirsi, and their three children stood behind her on stage.
To wild applause, she pledged to take the fight to Washington and also repeated a campaign promise to abolish the Immigration and Customs Enforcement (ICE) agency.
"Here in Minnesota, we not only welcome immigrants, we send them to Washington," she told the multiracial crowd that propelled her to victory. She warned them that her victory does not end the struggle against bigotry and that they must stand to defend America's democracy which is at stake.
"She has always been a smart kid growing up," a beaming Nur Omar Mohamed, Omar's father, told Mshale when asked whether he ever dreamed of her daughter ever bouncing a United States congresswoman. "I always knew she will be something but this is something else."
A sea of international media, from as far as Japan and the BBC's Nairobi crew were present to capture the historic moment.
Pat Paulson, a realtor, has lived in the fifth district his whole life. During that time, it has been represented by only three representatives, Martin Sabo and Keith Ellison. "It is truly an historic election and I have supported Ilhan as soon as she announced she was running as she was committed to fighting the "politics of fear," said Paulson.
"She not only understands the social issues that face our society but I am also a relator and businessman and Ilhan has shown a good grasp of the issues that face small business in our district," Paulson said.
"This is history for all of Africa," a smiling Abdulrahman Kahin said. Kahin, an immigrant from Djibouti said going forward those born in Africa like him will now have a voice in Washington.
Watch Ilhan Omar Victory Speech.

Born and raised in Kenya's coastal city of Mombasa, Tom is the Founder, Editor-in-Chief and Publisher of Mshale which has been reporting on the news and culture of African immigrants in the United States since 1995. He has a BA in Business from Metro State University and a Public Leadership Credential from Harvard's Kennedy School of Government. He was the original host of Talking Drum, the signature current affairs show on the African Broadcasting Network (ABN-America), which was available nationwide in the United States via the Dish Network satellite service. On the show, he interviewed Nobel laureates such as 2004 Nobel Peace prize winner, Professor Wangari Maathai, the first woman from Africa to win the peace prize and heads of states. Tom has served and chaired various boards including Global Minnesota (formerly Minnesota International Center), the sixth largest World Affairs Council in the United States. He has previously served as the first Black President of the Board of Directors at Books for Africa. He also serves on the boards of New Vision Foundation and the Minnesota Multicultural Media Consortium. He has previously served two terms on the board of the United Nations Association. An avid runner, he retired from running full marathons after turning 50 and now only focuses on training for half marathons.





(2 votes, average: 4.50 out of 5)


Loading...