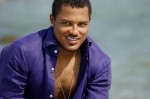 Ghanaian celebrated actor, Van Vicker, After many years in the movie industry has finally gotten the opportunity to star in his first Hollywood movie titled 'Skinned' with Hollywood actress /Director, Lisa Raye McCoy.
In the film, set to premiere in 2015, Van Vicker takes on the role of a businessman who only has an interest in light-skinned women.
He marries a woman who deceives him to believe that she's light skinned, but it turns out she's been bleaching. She tries to hide her embarrassing secret by lying that she suffers from vitiligo, hiding her baby pictures, and even goes so far as to not wanting to give birth to ensure no one finds out.
Van Vicker, who is currently in America, said that he has been very active shooting in different countries that was why he has not been too stable in Ghana,
"I have been very active shooting in different countries and also attending different programs. That's why I have not been too stable in Ghana, but now I am in America shooting a Hollywood film for the first time' he said excitingly.
Sharing his first time Hollywood shooting experience, he was quoted in Ghanaweb as saying "'the experience, is not very different from other shoots, but I must say; Raye and Avery Williams (Director and co-director) changed my whole perspective as an actor and a director."





(1 votes, average: 3.00 out of 5)


Loading...