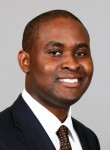 The African Awards which are presented by Mshale Newspaper has named a distinguished panel of judges to oversee the selection of finalists for the 5th African Awards which will be held in Minneapolis in Fall 2015.
The panel judges' task, like in previous Awards, is to review the profile and achievements of the individuals the public has nominated for the various award categories and determine the three finalists for each category. The public then votes for the eventual winners of each category.
Ghana native and president of the National Association of Black Accountants (NABA), Minnesota Chapter, Godson Sowah, CPA, will chair the three judges' panel. He will be joined by Fatima Mohamed, co-founder of Egart Foundation. Ms. Mohamed replaces Nata Samb who has since relocated to Senegal while a replacement for the other judge, Joash Omandhi, is in the works. Mr. Omandhi 's intense transcontinental business travel will prevent him from fully engaging in the process.
Mr. Sowah will take over from retired Hennepin County Judge, Harry Crump, who has chaired the panel since the inception of the African Awards.
"I am eager to work with this exceptional panel to select our finalists from what I expect will once again be an impressive line-up of nominees from our readers and the public. The African Award nominees include community leaders, entrepreneurs and highly involved college students from the African immigrant community," said Tom Gitaa, Mshale's president and founder. "The African Awards provide us with an opportunity to recognize those who are good examples of excellence in our community, those who are leading and pushing boundaries to uplift the community." Gitaa also thanked Judge Crump for his leadership in the previous four editions of the Awards and Samb and Omandhi for their service.
Mr. Sowah, a manager in the Advisory practice at Ernst & Young, LLP, one of the big four global accounting firms, said he looks forward to a remarkable 5th anniversary of the African Awards "I am humbled by my selection as chairman and look forward to working with my fellow judges to identify exceptional finalists that the African Awards has become famous for." Mr. Sowah also sits on the executive board of directors for the North Minneapolis based non-profit, Avenues for Homeless Youth.
African Awards nominations from the public are expected to commence in March 2015 with the public voting taking place in May 2015. Winners will be announced at the Fall 2015 gala. Previous keynotes speakers have included former White House Social Secretary Desire Rogers and former CNN media personality Lolla Ogunnaike. Last year, Ghanaian actor, Majid Michel, winner of the Best Actor in a Leading Role at the 2012 African Movie Academy Awards keynoted the African Awards.
More info on the African Awards can be found here.

Miriam is a general assignment reporter at Mshale.





(No Ratings Yet)


Loading...