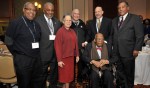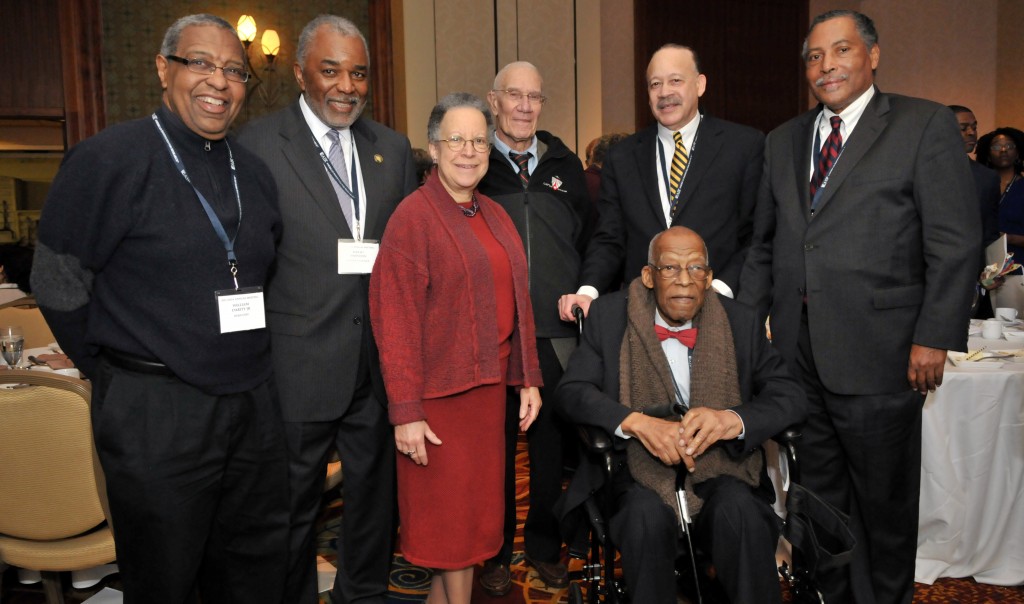 Dr. Samuel Myers, Jr., the Roy Wilkins Professor of Human Relations and Social Justice at the University of Minnesota's Humphrey School of Public Affairs, has received the Samuel Z. Westerfield, Jr., Award by the National Economic Association (NEA). The award—NEA's highest honor, awarded to recognize distinguished service, outstanding scholarship, and achievement of high standards of excellence—was presented at the organization's annual meeting in January in Boston. Several past Westerfield Award recipients attended the event, including Dr. Myers' father, Samuel Myers, Sr., who also previously received the same award. The event also drew Nobel Laureate, Robert M. Solow, Myers' dissertation advisor at Massachusetts Institute of Technology.
"It was a significant honor to have two Harvard classmates of Samuel Westerfield in the audience: Samuel Myers, Sr. and Robert Solow," says Dr. Sam Myers, Jr. "Both appreciate the connection to the University of Minnesota's legendary economist, John D. Black, and the role of markets in affecting social and economic inequalities."
Myers' expertise and research focus on the impact of social policies on the economically disadvantaged. He is a national authority on the methodology of measuring racial and ethnic disparities in public procurement and contracting. Dr. Myers has served as an expert witness in groundbreaking litigation regarding disparity studies, including  federal cases of GEOD vs New Jersey Transit (3rd Circuit Court of Appeals) and Geyer Signal vs Minnesota Department of Transportation. He regularly provides technical assistance to state transportation departments, airport authorities, and local transit agencies.
Myers has served as president of both the NEA and the Association of Public Policy and Management. He is an elected fellow of the National Academy of Public Administration and was a Fulbright Fellow with the Chinese Academy of Social Sciences in Beijing during the academic year of 2008-2009. Myers has consulted with the National Employment Policy Commission; National Academy of Sciences; U.S. Civil Rights Commission; U.S. General Accounting Office; and U.S. Congressional Committee on the Judiciary, Subcommittee on Crime; and served as a senior staff economist at the Federal Trade Commission.
The Westerfield Award is named after the distinguished economist and former Ambassador to Liberia, Samuel Z. Westerfield, Jr. Established in 1973, it acknowledges outstanding scholarly achievements and public service by an African-American economist. Previous recipients include Nobel Laureate and Princeton University Professor Sir W. Arthur Lewis, MIT Professor Phyllis Wallace, and Northwestern University Professor Marcus Alexis. The January ceremony was the first time that the son of a previous winner has been honored. In addition to Dr. Myers, Sr., past awardees who attended the event include David Swinton, Bernard Anderson, Margaret Simms, and William A. Darity, Jr.
Myers is the director of Roy Wilkins Center for Human Relations and Social Justice at the Humphrey School and has been a member of the Humphrey School faculty since 1992.
For information on the award ceremony, visit neaecon.org.





(No Ratings Yet)


Loading...