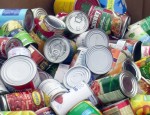 A food drive to benefit the orphans and neglected children stemming for the Ebola outbreak that devastated Liberia, Guinea and sierra leone, kicks off tomorrow (February 21) at the Brooklyn Park Community Center starting from 11am to 6pm. Food supplies collected will be sent to reputable organizations already working in the region to address hunger and the aftermath of Ebola.
The Minnesota African Task Force Against Ebola (MATFAE) is coordinating the food drive and is a continuation of its heightened profile in leading the African immigrant community response to the epidemic. MATFAE is appealing to the public to bring non-perishable food items to share with those whose lives have been negatively impacted by Ebola in West Africa
MATFAE said in statement the food drive is a first step "in a sustained campaign to help address hunger and food insecurity in the three countries most affected by the Ebola outbreak."
"Even as a united world races to contain the spread of Ebola in West Africa, life-threatening hunger and chronic food insecurity are beginning to devastate the lives of vulnerable people, especially poor families, orphans, neglected children, and seniors," said Robena Lewis-Vincent, project coordinator of the food drive. "Unless the African Diaspora plays its part, so many vulnerable lives will be expose to serious life-threatening crises beyond our worse fears."
The World Bank, which with its sister organization the International monetary Fund (IMF) was blamed in an in depth study by a UK organization for contributing to the spread of Ebola by discouraging public investments in health, has estimated that almost a million people in the three affected countries are facing increasing hunger and acute food shortages.The Ebola crisis affected agriculture production.
Volunteers are also needed for the event. those interested can call Robena Lewis-Vincent at 660-687-9016, MATFAE Chair Abdullah Kiatamba at 612-388-4767 of the Assistant Coordinator Isaac Owens at 612-323-8834.
Ebola Orphans Food Drive
Saturday, February 21, 2015 11:00am-6:00pm
Location: Brooklyn park Community Center, 5600 85th Ave N, Minneapolis, MN 55443
Project Coordinator Contact: Robena Lewis-Vincent, 660-687-9016
More info: www.kickebolaout.org or www.facebook.com/MATFAE

Born and raised in Kenya's coastal city of Mombasa, Tom is the Founder, Editor-in-Chief and Publisher of Mshale which has been reporting on the news and culture of African immigrants in the United States since 1995. He has a BA in Business from Metro State University and a Public Leadership Credential from Harvard's Kennedy School of Government. He was the original host of Talking Drum, the signature current affairs show on the African Broadcasting Network (ABN-America), which was available nationwide in the United States via the Dish Network satellite service. On the show, he interviewed Nobel laureates such as 2004 Nobel Peace prize winner, Professor Wangari Maathai, the first woman from Africa to win the peace prize and heads of states. Tom has served and chaired various boards including Global Minnesota (formerly Minnesota International Center), the sixth largest World Affairs Council in the United States. He has previously served as the first Black President of the Board of Directors at Books for Africa. He also serves on the boards of New Vision Foundation and the Minnesota Multicultural Media Consortium. He has previously served two terms on the board of the United Nations Association. An avid runner, he retired from running full marathons after turning 50 and now only focuses on training for half marathons.





(No Ratings Yet)


Loading...