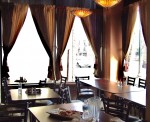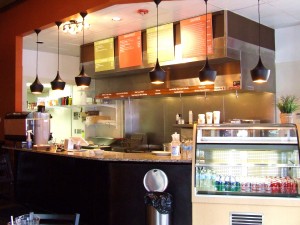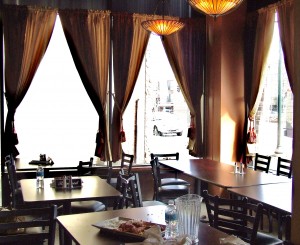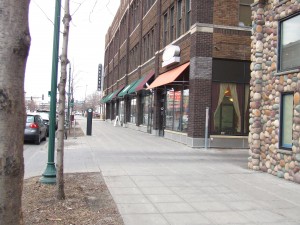 All week long, tantalizing aromas have been wafting from the doors of African Paradise Restaurant as they've rehearsed for their grand opening, Friday, March 20. The freshly painted walls and ceiling finished from earthy ocher pigments and ample seating split between the sunny front window and the shadowy, more intimate back section provided a choice for dine-in customers.
I had the luxury of a sneak-peek sampling from their Mediterranean platter. A large rectangular dish arrived at my table filled with grilled beef and chicken cubes seasoned mildly. Mixed in with the meats were bell peppers and onions. Complementing the meat dish, a vegetarian entrée appeared with spiced peppers and black beans. Gingered rice finished the trio of food. African Paradise Restaurant chef took care to come out from the kitchen and describe the foods I was served. Pitchers of mango lassi accompanied the diners' fare and rich cappuccinos capped the evening's meal.
Idris Jumale, one of the partners and co-owners, still dressed in business attire from his day job was quick to roll up his sleeves and plunge in to serve customers and meet their needs. I look forward to my next visit with my family. I'm sure we'll find something for everyone. While the menu's relatively small, it caters to a wide cross-section of tastes and food-sensitivities.
Co-owner, Rashid Omar, pointed out the sidewalk space that will be used as another dining area when the weather warms. "It's one of the  few African restaurants with outdoor seating," he said, which will be a welcome addition to the neighborhood.
African Paradise Restaurant is located at 2700 East Lake Street in Minneapolis across from the Lake Street Library. Dine-in or take-out are available with both indoor and outdoor seating as weather allows. Open daily 6 am – 11 pm.
Susan is based in Minneapolis and reports on general assignments for Mshale with a focus on entertainment. In addition to reporting, she is also a writer, poet, teacher and coach.





(3 votes, average: 4.00 out of 5)


Loading...