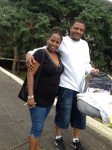 Minnesota Kenyans and friends will gather tomorrow, April 11, to raise funds to send the body of one of their own, Esther Nyambura Muchina-Dobie, to Kenya for burial.
Nyambura was a victim of a murder-suicide. Savage Police believe her husband, Rodney Terrell Dobie, 41, used a 9mm Glock handgun to shoot her once in the head, and then fatally shot himself in the head as well.
According to the authorities, police on March 30 went to the couple's home after Nyambura's employer requested them to check up on her as she had not shown up for work, which the workplace described as unusual. She was last seen leaving work on March 28.
According to police, when they arrived at the couple's home, they found one garage door of a three-stall garage was open, and the service door between the garage and the home was unsecured.  Police entered the home and found the couples' bodies in a bedroom.
Savage Police Sgt. Michael Schiltz said neighbors said they did not know the couple well as "they mostly kept to themselves." They had lived at the residence for fifteen months.  There has been one police call to the residence while the Dobies were living there for a barking dog complaint, according to Savage police.
Government records show the two were married on September 26, 2009. The two did not have any offspring together, according to friends.
Nyambura's death has shocked the Minnesota Kenya community which has fresh memories of another death last year, when young Brian Okemwa Gitenya, who had just graduated from college, was assaulted in Dallas and died. He was in Dallas to celebrate his graduation from Nursing school.
It can cost upwards of $15,000 to send a deceased's body home.
Nyambura's fundraiser will be held at Brooklyn Junior High School, 7377 Noble Avenue N., Brooklyn Park, MN 55443 starting at 4pm. Donations can also be deposited at Wellsfargo Bank.

Born and raised in Kenya's coastal city of Mombasa, Tom is the Founder, Editor-in-Chief and Publisher of Mshale which has been reporting on the news and culture of African immigrants in the United States since 1995. He has a BA in Business from Metro State University and a Public Leadership Credential from Harvard's Kennedy School of Government. He was the original host of Talking Drum, the signature current affairs show on the African Broadcasting Network (ABN-America), which was available nationwide in the United States via the Dish Network satellite service. On the show, he interviewed Nobel laureates such as 2004 Nobel Peace prize winner, Professor Wangari Maathai, the first woman from Africa to win the peace prize and heads of states. Tom has served and chaired various boards including Global Minnesota (formerly Minnesota International Center), the sixth largest World Affairs Council in the United States. He has previously served as the first Black President of the Board of Directors at Books for Africa. He also serves on the boards of New Vision Foundation and the Minnesota Multicultural Media Consortium. He has previously served two terms on the board of the United Nations Association. An avid runner, he retired from running full marathons after turning 50 and now only focuses on training for half marathons.





(No Ratings Yet)


Loading...