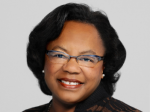 Former Minneapolis Mayor, Sharon Sayles Belton, will be the keynote speaker at Minnesota's Kenya Independence Day Dinner on  Saturday, December 12, chairwoman of the Kenya Leadership Group that is planning the dinner announced. The dinner will take place at the DoubleTree by Hilton in St. Louis Park.
The occasion will mark 52 years of Kenya's independence. In Kenya, it is known as Jamhuri Day. Jamhuri is the Swahili word for republic.
Mayor Belton is the first woman and first black person to be mayor of Minnesota's largest city where she served for two terms (1994 to 2001). She is currently Vice President of Government Affairs at Thomson Reuters.
"It's an honor to welcome Mayor Belton as a keynote speaker," Lillian Otieno, chairwoman of the Kenya Leadership Group stated. "She is a great friend of the Kenyan community, and has always been a great friend." Otieno touted Belton's long list of accomplishments in both the public and private sector as the group's reason for selecting the former Mayor as this year's keynote.
In 2013, Minneapolis renamed the iconic Third Avenue South bridge near downtown in her honor. Among awards bestowed on her include the Gertrude E. Rush Distinguished Service Award given by the National Bar Association and the Rosa Parks Award which she received from the American Association for Affirmative Action.
The Kenya Leadership Group hosting the dinner is the same one that plans the annual Madaraka Day festivities in the summer that is traditionally keynoted by Kenya's ambassador to the United States.
Tickets to the Jamhuri Day Dinner are available online at eventbrite.com.
Kari, formerly of Minneapolis is now based in Nairobi. She is a writer, born and raised in Kenya, and a true global citizen. When not writing for Mshale, she is actively pursuing justice and equality for all through her writing and activism.





(No Ratings Yet)


Loading...