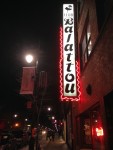 Club Balattou is tiny. You walk in off St. Laurent, one of Montreal's main drags, and you're looking directly at musicians on stage just ahead to the right. In fact, you have to walk right in front of the stage to get a drink at the bar. Little has changed here over the years. Same mirrors on the ceiling and walls. Same 80s logo in purple neon splashed over the bar. Even the carpet is the original from when Balattou opened in 1985.
A Guinean kora player named Yamoussa Kora was the first act. As Kora's band Thousand Colors kicks in, a quiet man with darting eyes and a black ski cap hunches by the door. He wears a baggy fleece over an African batik. Occasionally he offers a handshake or a hug, or leans in to share a confidence as stragglers wander in.
You'd never know it's Lamine Toure, Club Balattou's owner and founder, a sort of godfather of African music in Canada.
"Lamine Toure is the wise man of the neighborhood," says Montreal-based music journalist Ralph Boncy. "He's a magician. He's not fast. He's always slow. He always has advice for you."
Toure didn't grant interviews for years. And still, he's not one to tell much of his own story. Boncy says Toure's quiet wisdom made Balattou the prime gathering place for African immigrants in Montreal in the 1990s. "It's like the light by the shore, always faithful to guide Black culture and the diasporas."
In the 1980s, Toure lured some of Africa's biggest stars to play in little Balattou when they were selling out stadiums in their home countries. Papa Wemba and Baaba Maal made American debuts here. Salif Keita, Yossou N'Dour, Angelique Kidjo made early appearances, too, as did Congloese soukous band, Loketo.
Toure was born in Guinea to a successful African trader. He followed his father on trips to Mali, Senegal, Congo and learned the language of business. When he was 13, he became a dancer with the National Ballet of Guinea and toured across Africa and Europe.
Through all those travels, he absorbed the differences in African cultures, says longtime collaborator Suzanne Rousseau, but also what ties those cultures together. Rousseau says he became an encyclopedia of musical roots. "He tells you exactly what origin it came from, from that country. Soca, calypso, for example, it came from the High Life of Ghana. All these connections."
In 1974, Toure moved to Montreal, where he met Alex Boicel, the son of a jazz club owner. Together they opened Café Creole, a place for African and Caribbean immigrants to talk politics and share music. Boicel says Toure would hold court. "Toure would tell you so many things about Africa. You don't even have to go to the book and read it. That was the pure story."
Toure became a father figure to Boicel. They helped immigrants navigate working papers and permits. They had a couple beds in back for people just off the plane. And, Boicel says, people brought in the latest records from overseas. "If you want to hear music from Congo, from Cameroon, Guinea, Mali, Senegal, this is the place to be. And all the students, those who were very homesick for their country were coming there."
When Café Creole closed, Toure decided to open a club of his own. "I wanted to make something that automatically said it was a club for everyone," says Toure, "all races and cultures." So he coined a word in French – Bal-a-tous – "dance party for all". That became the name, Club Balattou.
Suzanne Rousseau worked at Balattou from the beginning. She says Toure directed the club DJs to mix their sets, to encourage the mixing of cultures and genres. "We must travel. [The DJ will play] three French-Caribbean, three latin American, three central Africa, for example. We have to represent all these musics. They are all connected."
As Balattou became a must-stop for African musicians, Congolese artist Dally Kimoko even wrote a song about it, called "Balattou a Montreal." Today Club Balattou holds an annual summer festival all over Montreal that attracts almost 200,000 people. It's called Nuits D'Afrique, and it showcases world-famous acts from Africa, Latin America, and the Caribbean.
Rousseau is the director. She says in the faces in the crowd, she sees Lamine Toure's legacy. "The mixture of the generations, and the different cultures mixed together, with a smile up to here."
Watch a typical concert at Club Balattou here.
David Sommerstein is a reporter and Assistant News Director at North Country Public Radio (NCPR) in Montreal, QC.





(No Ratings Yet)


Loading...