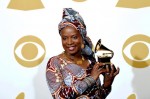 After a five year hiatus, two-time Grammy Award winner, Angelique Kidjo, will be back in the Twin Cities on Sunday, April 24.
The "Queen of African Music" will perform at The O'Shaughnessy on the main campus of St. Catherine University in St. Paul.
She is the reigning World Music winner at the Grammy's having just won at the 57th Grammys in February 2015. She has again been nominated for this year's Grammys to be held on February 15.
Priced at $25-$45, tickets for the April 24 concert went on sale last week at the venue and online.
Kidjo last performed in the Twin Cities in 2011 during a sold-out concert at the Ordway.
Her 2014 album that won her last year's Grammy, Eve, topped Billboard's World Music chart.
Tickets
In person: at The O'Shaughnessy Ticket Office
Monday through Saturday 12-6 P.M.
St. Catherine University
2004 Randolph Ave., St. Paul.
 Online: oshag.stkate.edu

Born and raised in Kenya's coastal city of Mombasa, Tom is the Founder, Editor-in-Chief and Publisher of Mshale which has been reporting on the news and culture of African immigrants in the United States since 1995. He has a BA in Business from Metro State University and a Public Leadership Credential from Harvard's Kennedy School of Government. He was the original host of Talking Drum, the signature current affairs show on the African Broadcasting Network (ABN-America), which was available nationwide in the United States via the Dish Network satellite service. On the show, he interviewed Nobel laureates such as 2004 Nobel Peace prize winner, Professor Wangari Maathai, the first woman from Africa to win the peace prize and heads of states. Tom has served and chaired various boards including Global Minnesota (formerly Minnesota International Center), the sixth largest World Affairs Council in the United States. He has previously served as the first Black President of the Board of Directors at Books for Africa. He also serves on the boards of New Vision Foundation and the Minnesota Multicultural Media Consortium. He has previously served two terms on the board of the United Nations Association. An avid runner, he retired from running full marathons after turning 50 and now only focuses on training for half marathons.





(No Ratings Yet)


Loading...