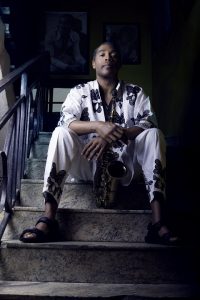 "How can you not care about 49 people killed in a nightclub," Femi Kuti asks plaintively over the phone during an interview with Mshale recently. Indeed, this musical master of the Afrobeat who maintains his home in Lagos, Nigeria, does care.
His concern extends beyond his homeland where 86 people lost their lives in Dalori earlier this year as the Islamist extremist group Boko Haram gutted the village to find compassion for all lives throughout the world. "I have to be globally involved," Kuti says.
A solution or resolution to the rampant violence and inequality among people won't happen in his lifetime, Kuti states. Through music nursed on politics and social justice issues, he hopes to not only inspire people, but to raise awareness. "People have to have knowledge," he says emphatically, "a major step is awareness."
Femi Kuti & The Positive Force will perform at The Cedar Cultural Center on July 15th. If his past concerts can be held as an example, in his resonate voice, he'll expound between numbers to talk to the audience and persuade them to deepen their awareness of current situations. Zuluzuluu and Worldwide Discotheque will play warm-up band.
This show is part of The Cedar's Global Roots series.
For tickets go to The Cedar's events page
Friday, July 15, 2016
Doors: 7:00 pm / Show: 8:00 pm
This is a standing show with an open floor.
Susan is based in Minneapolis and reports on general assignments for Mshale with a focus on entertainment. In addition to reporting, she is also a writer, poet, teacher and coach.





(No Ratings Yet)


Loading...