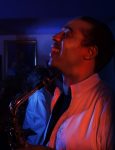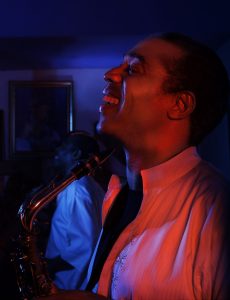 I couldn't envision Femi Kuti and the Positive Force squashing onto The Cedar's stage—not all the horn players, guitar players, drummers, dancers, keyboardist, and the man himself. I also could not imagine his gigantic sound contained indoors, definitely not in a space so small it only holds 600 concert-goers.
But somehow last Friday, July 15th, they did it. Kuti, the elder brother, and his magnificent entourage, cranked up the audience for two glorious hours.
In the dance-or- stand- only show, Kuti played music from his most recent album, No Place for My Dream, as well as reaching back to older numbers.
His message of political reform, revolutionary change, and the empowerment of the poor never wavered. Every song he played was electric, as if he were plugged into a 10,000 volt outlet the entire show.
He performed with a mastery that is unforgettable. Sweat poured from his body, soaking his red silk outfit. Unlike previous performances at the Minnesota Zoo, he never stripped down despite his high-intensity playing and movement. Any skin we saw from the dance floor was displayed by his dancers on stage. He blew his saxophone, pounded on keyboard, and sang—sometimes screamed—into the microphone. With circular breathing, he held onto horn notes so long, I couldn't even count the minutes.
His voice called out in a wide range sometimes like a rolling thunder, sometimes menacing and commanding.
Kuti held his audience in trance-like attention as he moved his band from one song to the next with scarcely time to draw in breath. His three female dancers clad in beaded outfits shook their booties with expert force. A single male dancer stood to the back corner or the stage and writhed with rhythm, wearing a western tie-and-suit.
Mid-way through the second half of the show, Femi Kuti laughed at us in disbelief at our stiff movements. He directed us to dance and modeled what he meant. After that encouragement, at least half the audience produced some heat in response to the music. He also engaged us in some call-and-response that he wove throughout the show. Surprisingly to me, he only sang in English, even counting out to his band "one-two-three-four."
There was very little banter between numbers, often none at all. His show was rich in music and dancing—pure entertainment as long as one suspends Kuti's message. But this consummate musician won't allow his message to be completed ignored. It's in all his work and colors all his lyrics; it's expressed in Kuti's hand movements as he directs his band. As he proclaims the power of Afrobeat, he follows with the desperateness of his fellow Nigerians and their need for education, empowerment, and opportunities.
I felt simultaneously pummeled by his words/content and driven to frenzy by the music/conveyance. An amazing artist delivered a show that compels me to do better in this world of contention.
Susan is based in Minneapolis and reports on general assignments for Mshale with a focus on entertainment. In addition to reporting, she is also a writer, poet, teacher and coach.





(No Ratings Yet)


Loading...