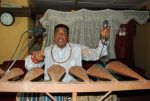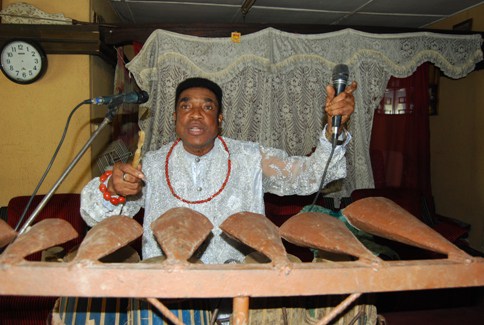 Minnesotans are in for rare treat this weekend when Okpan Arhibo takes the stage at the Country Inn Suites in Coon Rapids on Saturday (July 23). He is on a 15 state tour, marking the first time that an Urhobo traditional musician is performing in the United States according to the national promoter, Dr. Jude Onakpoma, when he spoke to Urhobo Today in advance of the tour.
Arhibo is known as the King of Urhobo music with 200 albums to his name. Urhobo is the fifth largest cultural group in Nigeria and the largest in that country's oil-rich Delta State.
Known for its distinctive energy, Urhobo music and dance is marked with a high tempo beat with some pidgin english thrown in. Okpan Arhibo's most popular hits Konojuwe and Urhobo Makosa sold a whopping 10 millions albums according to Urhobo Today.
"For the Twin Cities, this is a truly rare event," Atare Agbamu, a Twin Cities financial executive who hails from Nigeria's Delta region told Mshale. Agbamu had the privilege of having chief Arhibo perform at his wedding 27 years ago when the musician was then a rising star among Urhobo musicians.
If you plan to go:
Okpan Arhibo Live in Minnesota
Location: Country Inn Suites, 155 Coon Rapids Blvd., Coon Rapids, MN 55433
Time: 5:00 P.M.- 10:00PM (After-party follows at the same venue)
Tickets: $30 – Call 612-701-8576 to reserve your ticket

Born and raised in Kenya's coastal city of Mombasa, Tom is the Founder, Editor-in-Chief and Publisher of Mshale which has been reporting on the news and culture of African immigrants in the United States since 1995. He has a BA in Business from Metro State University and a Public Leadership Credential from Harvard's Kennedy School of Government. He was the original host of Talking Drum, the signature current affairs show on the African Broadcasting Network (ABN-America), which was available nationwide in the United States via the Dish Network satellite service. On the show, he interviewed Nobel laureates such as 2004 Nobel Peace prize winner, Professor Wangari Maathai, the first woman from Africa to win the peace prize and heads of states. Tom has served and chaired various boards including Global Minnesota (formerly Minnesota International Center), the sixth largest World Affairs Council in the United States. He has previously served as the first Black President of the Board of Directors at Books for Africa. He also serves on the boards of New Vision Foundation and the Minnesota Multicultural Media Consortium. He has previously served two terms on the board of the United Nations Association. An avid runner, he retired from running full marathons after turning 50 and now only focuses on training for half marathons.





(No Ratings Yet)


Loading...