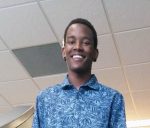 Friends and family gathered Wednesday for a visitation and viewing of the body of 21-year old Sean Maina who was stabbed in Dinkytown, a college neighborhood by the University of Minnesota on the night of August 25.
Twenty-three-year-old Brandon Kenneth Bockoven of Maple Grove was charged with second-degree murder last Friday and faces 40 years in prison if convicted.
Neither Maina nor Bockoven were University of Minnesota students, Mshale has determined.
Maina is the son of Anthony Maina Mwangi and Stella Omoke. He is also survived by sisters Laura Kaine and Salma Maina.
Bockoven has a misdemeanor theft conviction but no felony record in Minnesota, according to a search of Minnesota criminal records.
A police report said the two men knew each other and were arguing over money that Maina owed Bockoven. Police arrived to find Maina in the front passenger seat of a car, bleeding heavily, according to the report. Bockoven was in the driver's seat, and two women were in back seat.
"(Bockoven) responded that he had stabbed S.M.," an investigator wrote in the complaint that Mshale obtained. "When asked where the knife was, (Bockoven) held up a blue folding knife and stated, 'It's right here.'"
One of the women in the car told police she saw Bockoven stab Maina twice in the torso. The other woman said she saw Bockoven's hand come away from Maina, followed by a spurt of blood.
The death has sent shockwaves in the wider Kenyan community in the United States and the tone at the visitation was a somber one as loved ones and friends mourned young Maina.
Swahili and English hymns were sung in between sobs and speakers spoke of a young life lost.
The community will gather Saturday, September 3 at Park Center Junior High School in Brooklyn Center for a funeral fundraiser to assist the family.
A GoFundMe has also been setup at https://www.gofundme.com/SeanMainaFunding
Funeral Fundraiser for Sean Maina
When: Saturday, September 3, 2016 @ 4pm
Location: Park Center Senior High School, Brooklyn Center, Minnesota.
Cynthia is a graduate of the University of Minnesota School of Journalism. She has interned at Mshale and Voice of America and previously worked at the Minnesota Daily. She recently returned from Seoul, South Korea where she was an English educator.





(No Ratings Yet)


Loading...