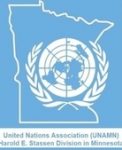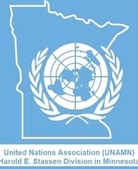 The United Nations Association of Minnesota has appointed ten new board members for terms beginning January 2017. The slate of new board members was voted on and approved at the association's annual fall members general meeting in Saint Paul.
The organization works on a local and regional level to promote the principles and goals of the United Nations.
Those elected to join the board are:
Ivy Stammer, Way to Grow
Nancy Dunlavy, The Workable World Trust
Kari Rise, St. Paul Public Schools
Tom Gitaa, Mshale Newspaper
Laura Robinson, Amigos del Mercado
Valerie Borgen-Landaverde, Cargill, Inc.
Leila DeVriese, Hamline University
Jim Nelson, Nelson Family Farm
Shawn Boonstra, Global Minnesota
Breanna Andree-Couturier, Hamline University Law Student
Businessman M. Jay Shahidi is the current president of the board which has 17 officers and elected officers.





(No Ratings Yet)


Loading...