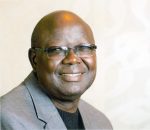 Seth Eggessa, whose wide smile and infectious laugh was a fixture at Twin Cities community and charitable events and who was very articulate in explaining the challenges Africa faced to prospective donors and supporters, died on Friday, January 6. He was 67.
His death was confirmed by Paul Musherure, a Twin Cities dentist and fellow Ugandan. The cause was abdominal cancer.
After a brief banking career in Uganda, he arrived in Minnesota in 1977 to attend the University of Minnesota Duluth where he graduated with a BA in Business Administration. After graduation, he pursued a career in the financial services industry where he found success.
The financial services sector with its emphasis on having one's affairs in order before you die certainly had an impact on the late Eggessa.
For many years he worked for Ameriprise Financial, the successor to American Express Financial Advisors which was a subsidiary of American Express Company. He would exhort fellow community members to set up retirement plans for themselves and college funds for their children.
"We have not had to do any fundraising within the community to give him a proper send-off," his friend of 17 years Dr.Musherure told Mshale. Musherure said the late Eggessa had set up his affairs in order with proper instructions on how to access his funds and accounts to ensure a proper burial. "He certainly lived what he preached." He never wished to be a burden to anyone especially after death.
Despite his many years in America he never forgot the people he left behind in his native Uganda. He would lead what he used to call book missions there as he sought to improve literacy among the youth. He was a longtime board member at Books for Africa, the largest shipper of donated school textbooks to the African continent.
In 2010 in a feature in a St. Paul suburban newspaper Lillie News, after a successful delivery of a container of 22,000 textbooks from Books for Africa to Uganda that he helped organized through a grant from the Roseville Rotary Club, he said  "(I am) just a servant with a passion based on the immense poverty that still exists in Uganda"
He would make numerous such trips to Uganda to supervise the delivery and distribution of books.
By the time of his passing he was instrumental in the shipping of well over 70,000 textbooks to the Tororo region of Uganda where he hailed from and to the capital city Kampala through a project with the United States Peace Corps.
He was an active Rotarian and a member of the Roseville Rotary Club, according to Bradley Kirscher, president of the Roseville Rotary Club.
"When I joined the club back in 2010, he was the membership director," Kirscher said underscoring the importance Eggessa attached to the sustenance of the club by recruiting new members. During his time as the membership director, he became very active in Rotaract, the Rotary-sponsored service club for young professionals and an important pipeline for future Rotarians.
Together with the club, they built a multi-use building in Tororo that housed both a clinic and library.
Another Rotarian, Dave Schafer of the Rotary Club of Woodbury worked closely with Eggessa when his Woodbury Rotary Club joined forces with the Roseville Rotarians to sponsor the Tororo project through the Rotary Global Grant. With electricity a challenge in most of Africa, Seth was innovative with a plan to install solar lighting.
"Seth was good about asking for contributions," said Schafer.
A kidney transplant in the early 2000s gave him a renewed appreciation for life and spurred him to live life to the fullest. He went on to marry the woman that gave him the kidney. The marriage did not last and he never remarried but in conversations he would describe in affectionate terms the "woman that gave me some more years."
Rosemond Owens, the jocular former president of the board at Books for Africa from Ghana would normally rib him on how she was going to find him a wife. On receiving news of his death, she deadpanned in an email that "I thought this will be the year(in finding him a wife)."
The beneficiaries of that energy after the kidney transplant were the children of Uganda through his involvement with Books for Africa and the Rotary Club of Roseville. Tom Warth, founder of Books for Africa described him as an indefatigable worker for his community and that "nothing slowed him." Mr. Warth got the inspiration to start Books for Africa in 1988 during a visit to Uganda.
He had one estranged son from a previous marriage. He would dot over the many nephews and nieces he had, proudly sharing their accomplishments with friends like a proud father would. He is survived by his four sisters Lydia A. Jones, Faith J. Tumwebaze and her husband James, Judith N. Ojambo, Mary Rager and her husband Jimmy. Seth is also survived by his brother Clement O. Ojambo and Clement's wife Margaret as well as many nieces and nephews.
Patrick Plonski, the current executive director at Books for Africa described him as a valued and dedicated member of the Books for Africa family that everyone liked.
"His dedication to education in Africa and especially his home country of Uganda was inspirational to us all. He will be sorely missed," Plonski said.
Books for Africa, where the late Eggessa was a board member for five years, has established the Seth Eggessa Memorial Libraries project in honor of his service to the organization and children of Uganda. You can read more about it in the organization's Uganda project page here.
Details for a memorial service are below.
Memorial Service
Seth Eggessa Memorial Service
Date: Saturday, January 14, 2017
Location: North Heights Lutheran Church
2701 Rice Street, Roseville, MN 55113
Time: Visitation @ 10:00am Memorial Service @ 11:00am
Note: The author served with the late Seth Eggessa on the board of Books for Africa and parts of this obituary are based on details shared between the two.
Editor's note: An earlier version of this story stated Mr. Eggessa's age as 67. Mshale has since learnt that he was 65. The story has also been corrected to state that indeed the deceased had a son and was not childless as previously stated in the story.

Born and raised in Kenya's coastal city of Mombasa, Tom is the Founder, Editor-in-Chief and Publisher of Mshale which has been reporting on the news and culture of African immigrants in the United States since 1995. He has a BA in Business from Metro State University and a Public Leadership Credential from Harvard's Kennedy School of Government. He was the original host of Talking Drum, the signature current affairs show on the African Broadcasting Network (ABN-America), which was available nationwide in the United States via the Dish Network satellite service. On the show, he interviewed Nobel laureates such as 2004 Nobel Peace prize winner, Professor Wangari Maathai, the first woman from Africa to win the peace prize and heads of states. Tom has served and chaired various boards including Global Minnesota (formerly Minnesota International Center), the sixth largest World Affairs Council in the United States. He has previously served as the first Black President of the Board of Directors at Books for Africa. He also serves on the boards of New Vision Foundation and the Minnesota Multicultural Media Consortium. He has previously served two terms on the board of the United Nations Association. An avid runner, he retired from running full marathons after turning 50 and now only focuses on training for half marathons.





(3 votes, average: 5.00 out of 5)


Loading...