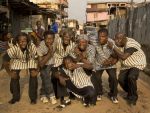 Sierra Leone's Refugee All Stars will perform live at a Books for Africa benefit concert at the Amsterdam Bar & Hall in St.Paul on Friday, February 10 to raise funds to send a container of  books (22,000 books) to Sierra Leone.
The band was formed by those fleeing their homes in the 1990s during Sierra Leone's bloody civil war. It formed into a band Kalia Refugee Camp in Guinea. It is one of Africa's top touring and recording bands.
The 28-year old Books for Africa has shipped almost a million books to Sierra Leone since the organization's founding. It is the largest shipper in the world of school textbooks to the African continent.
sierra Leone Refugee Allstars second album, Rise & Shine, earned the band 2010 Album of the Year on the World Music Charts Europe.
Tickets to the concert on Friday are $25 and proceeds will go towards the container shipment to Sierra Leone.
Amsterdam Bar & hall is located at 6 W 6th St, St Paul, MN 55102.
Tickets are available online here.





(No Ratings Yet)


Loading...