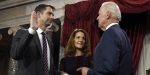 Immigrants still smarting from president Donald Trump's executive orders banning entry from Muslim-majority countries have a new challenge to contend with. New legislation to be introduced by Trump ally, first term US Senator Tom Cotton, of Arkansas intends to end the popular diversity visa lottery which allots about 50,000 visas a year to countries that have traditionally had lower rates of immigration into the United States.
Senator Cotton calls the diversity visa lottery "outdated".
The legislation, called the Reforming American Immigration for Strong Employment Act or the RAISE Act, would also seek to limit the ability of American citizens and permanent residents (green card holders) to sponsor their families for green cards.
Additionally, the RAISE Act will limit refugees offered permanent residency to just 50,000.
In documentation obtained by Mshale, the most radical aspects of the RAISE Act legislation will be the elimination of preferences for the extended and adult family members of U.S. residents including:
Adult parents of U.S. citizens
Adult siblings of U.S. citizens
Unmarried adult children of U.S. citizens
Married adult children of U.S. citizens
Unmarried adult children of legal permanent residents
According to Senator Cotton the legislation will reduce overall immigration "by 41% in its first year and 50% by year 10".
Senator Cotton contends that the RAISE Act would lower overall immigration to 637,960 in its first year and to 539,958 by its tenth year—a 50 percent reduction from the 1,051,031 immigrants who arrived in 2015.
Cotton's new legislation is expected to be formally proposed today in the senate by fellow Republican, Senator David Perdue of Georgia.
In an op-ed in the New York Times in December, Senator Cotton said: "For too long, our immigration policy has skewed toward the interests of the wealthy and powerful: Employers get cheaper labor, and professionals get cheaper personal services like housekeeping."
Cotton blames immigration and what he calls a "generation-long influx of low-skilled labor" as being responsible "the downward pressure on the wages of working Americans." he goes on to say that "wages for Americans with only high school diplomas have declined by 2 percent since the late 1970s, and for those who didn't finish high school, they have declined by nearly 20 percent."
In a bid to appear humane with his draconian legislation, Cotton's bill if it becomes law would create a temporary visa for parents in need of caretaking. He says in his legislation regarding these ailing elderly: "For U.S. citizens who wish to bring elderly parents in need of caretaking to the United States, the RAISE
Act creates a renewable temporary visa on the condition that the parents are not permitted to work, cannot access public benefits, and must be guaranteed support and health insurance by their sponsoring children."
It is not clear at this point whether Senator Cotton's RAISE Act will in anyway increase the number allotted for the H1-B visas from the current allotment of 85,000 per year that Congress has allowed.
Regardless, the RAISE Act will face significant opposition from proponents of legal immigration which include many of the Fortune 500 executives as well as most of Silicon Valley.

Born and raised in Kenya's coastal city of Mombasa, Tom is the Founder, Editor-in-Chief and Publisher of Mshale which has been reporting on the news and culture of African immigrants in the United States since 1995. He has a BA in Business from Metro State University and a Public Leadership Credential from Harvard's Kennedy School of Government. He was the original host of Talking Drum, the signature current affairs show on the African Broadcasting Network (ABN-America), which was available nationwide in the United States via the Dish Network satellite service. On the show, he interviewed Nobel laureates such as 2004 Nobel Peace prize winner, Professor Wangari Maathai, the first woman from Africa to win the peace prize and heads of states. Tom has served and chaired various boards including Global Minnesota (formerly Minnesota International Center), the sixth largest World Affairs Council in the United States. He has previously served as the first Black President of the Board of Directors at Books for Africa. He also serves on the boards of New Vision Foundation and the Minnesota Multicultural Media Consortium. He has previously served two terms on the board of the United Nations Association. An avid runner, he retired from running full marathons after turning 50 and now only focuses on training for half marathons.





(No Ratings Yet)


Loading...