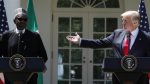 Less than 24 hours to the start of Black History month, President Trump issued a proclamation blocking the nationals of six countries from immigrating to the United States including Africa's largest economy and most populous country, Nigeria. Four of the six countries are from Africa, Eritrea, Sudan, Tanzania and Nigeria. The other two countries are Kyrgyzstan and Myanmar (formerly known as Burma).
House Speaker Nancy Pelosi has called the African ban "discrimination disguised as policy."
Trump in banning immigration from these countries said that five of the six countries do not comply with US information sharing requirements and that in the case of Sudan, its passport technology does not meet US standards in terms of vetting those wanting to move to the US.
Mshale followed up with DHS officials who clarified that skilled workers from these countries coming in on H-1B visas will not be affected. However, Investors visas, which normally lead to green cards will not be given to nationals affected by the African ban.
US Congressman Joe Neguse of Colorado, a Democrat whose parents are from Eritrea, lashed out at the ban on Twitter. "As a son of Eritrean refugees, let me be clear: The President's travel ban on African countries contradicts our American values and the promise and refuge our country has offered to immigrants and refugees for centuries. It is unconscionable. It is wrong. And we must oppose it."
What does this mean for the nationals from the four African countries?
Nigeria
-Green Card Visas? No
-Visitors' (Tourist) Visa? Yes. More scrutiny can be expected. However, the visa interview waiver for renewals suspension that went into effect early 2019 remains in place. Applicants wishing to renew their visas must appear in person for an interview.
-Diversity Visa Lottery? Not applicable. Nigerians were never eligible even before this ban as the Diversity lottery targets countries with low immigration to the US.
Eritrea
-Green Card Visas? No
-Visitors' (Tourist) Visa? Yes. More scrutiny can be expected.
-Diversity Visa Lottery? Yes.
Tanzania
-Green Card Visas? No
-Visitors' (Tourist) Visa? Yes. More scrutiny can be expected.
-Diversity Visa Lottery? No.
Sudan
-Green Card Visas? No.
-Visitors' (Tourist) Visa? Yes. More scrutiny can be expected.
-Diversity Visa Lottery? No.
Trump's African ban builds on his Muslim ban that targeted nationals from predominantly Muslim countries. In response to the Muslim ban, Democrats in Congress introduced the National Origin-Based Anti-discrimination for Non-immigrants (NO BAN Act), which would repeal the Muslim ban, broaden the Immigration and Nationality Act's nondiscrimination clause to specifically prohibit religion-based discrimination, and limit executive authority to prevent the president from issuing future bans based on xenophobia.

Born and raised in Kenya's coastal city of Mombasa, Tom is the Founder, Editor-in-Chief and Publisher of Mshale which has been reporting on the news and culture of African immigrants in the United States since 1995. He has a BA in Business from Metro State University and a Public Leadership Credential from Harvard's Kennedy School of Government. He was the original host of Talking Drum, the signature current affairs show on the African Broadcasting Network (ABN-America), which was available nationwide in the United States via the Dish Network satellite service. On the show, he interviewed Nobel laureates such as 2004 Nobel Peace prize winner, Professor Wangari Maathai, the first woman from Africa to win the peace prize and heads of states. Tom has served and chaired various boards including Global Minnesota (formerly Minnesota International Center), the sixth largest World Affairs Council in the United States. He has previously served as the first Black President of the Board of Directors at Books for Africa. He also serves on the boards of New Vision Foundation and the Minnesota Multicultural Media Consortium. He has previously served two terms on the board of the United Nations Association. An avid runner, he retired from running full marathons after turning 50 and now only focuses on training for half marathons.





(No Ratings Yet)


Loading...