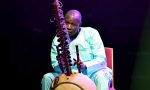 Malian musician Ballaké Sissoko has accused US border officials of breaking his "impossible to replace" musical instrument during a security check.
Sissoko plays the kora, a west African instrument whose 21 strings can sound similar to a harp. US border officials said they did not open the instrument case.
"Would US customs have dared to dismantle a Stradivarius?" asked a statement posted on Sissoko's Facebook page. "In its own way, that is what has just happened to Ballaké."
Sissoko checked his kora on a flight from New York, where he had just ended his US tour, to his home in Paris.
At home after the flight on Tuesday, Sissoko found that his kora, which was made to his specifications, had the neck removed, and the strings, bridge and amplification system had been taken apart.
"Even if all the components that have been dissembled were intact, it takes weeks before a kora of this calibre can return to its previous state of resonance," the Facebook statement said. "These kinds of custom-made koras are simply impossible to replace. They are certainly not available in shops."





(No Ratings Yet)


Loading...