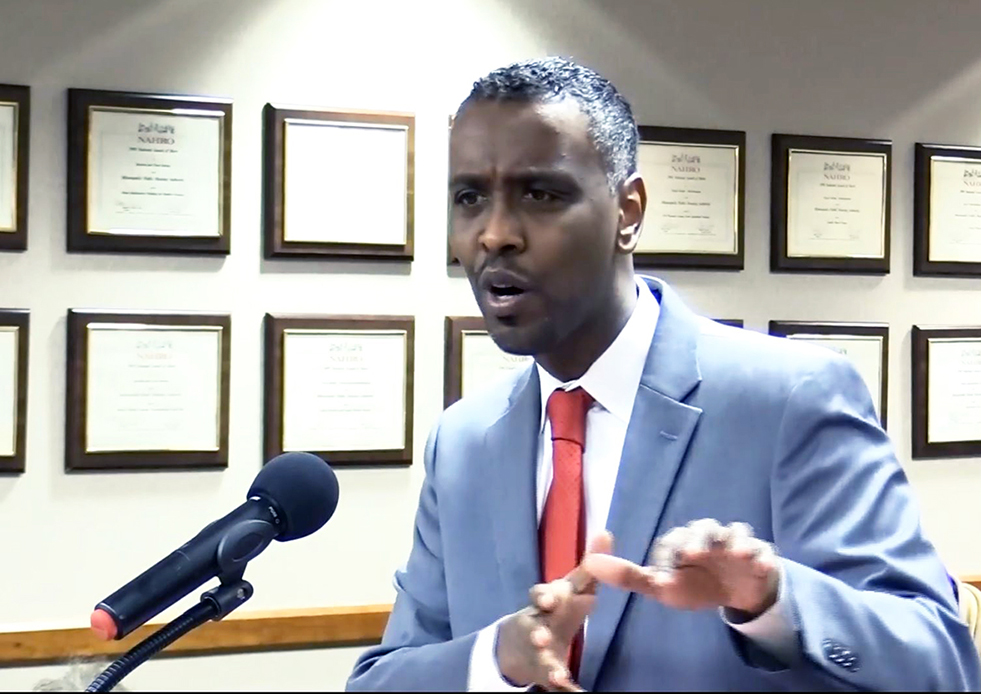 Minneapolis City Council Member Abdi Warsame was on Wednesday unanimously voted in by the board of the Minneapolis Public Housing Authority to be the agency's new CEO and executive director, replacing interim executive director and CEO Tracey Scott. The organization's former executive director Greg Russ left the position in August after getting appointed as the head of New York City's Housing Authority, the largest in the nation.
Warsame's new appointment will create a vacancy in Minneapolis' Ward 6 that he represents. A special election will need to be called to fill the remainder of his term which ends in 2021. Within hours of Warsame's appointment to lead the authority, Suud Olat, an activist sent a message to Mshale via Facebook Messenger announcing he will run for Ward 6.
Warsame is set to lead an organization that has recently fallen under public scrutiny following a November fire in the authority's Cedar High apartment complex left five people dead. Warsame said this tragedy was a motivating factor as to why he applied for this position.
"We should work toward making sure that tragedy doesn't happen again," Warsame said. "I lost five people there, friends, family, constituents, and that was one of the key moments that made me more determined to go for the role," Warsame said.
Weeks after the fire Warsame wrote an amendment that allocated over 2 million dollars in funds into Mayor Jacob Frey's 2020 budget for public housing sustainability. The funds are set to be utilized to make improvements to public housing units to ensure that they are well maintained and safe for residents.
Prior to serving as a council member representing Ward 6, Warsame was a board chair for the Cedar Riverside-Neighborhood Revitalization Program (CRNRP) that serves as a channel for information and resources that flow from the city into the Cedar Riverside/ West Bank neighborhood. Warsame also held a position as the executive director of the Riverside Plaza Tenants Association (RPTA), advocating for more than 5,000 residents in the neighborhood, many of whom are low income.
Following his appointment, Warsame has drawn criticism from community members who find his experience inadequate for the position. Defend Glendale and Public Housing Coalition, a group that regularly criticizes the housing authority's decisions released a statement voicing concern on his appointment.
"Abdi Warsame is not qualified to lead MPHA because he is not about the people," the statement reads. "He and his best friend Mayor Jacob Frey have been very divisive and toxic in the East African communities of Minneapolis."
Warsame has expressed increasing communication between residents and the organization's employees as a way to increase transparency and build stronger relationships between residents and the housing authority.
Warsame hopes to bring experience as a council member and involvement in public housing leadership into his new position. He also pointed to his upbringing in public housing in London as a  lived experience.
Regarding his new role, Warsame stated that holding a position with the Minneapolis Public Housing Authority "would be a noble mission" in serving Minneapolis residents as the city faces a growing affordable housing crisis.
Cynthia is a graduate of the University of Minnesota School of Journalism. She has interned at Mshale and Voice of America and previously worked at the Minnesota Daily. She recently returned from Seoul, South Korea where she was an English educator.





(1 votes, average: 5.00 out of 5)


Loading...