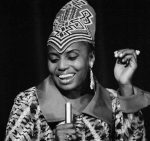 On this International Women's Day, we honor the immense contributions women from Africa and the diaspora have made toward the music we love. With an extensive but by no means comprehensive playlist, we recognize women from across the musical, cultural, historical and geographic spectrum–from South African icon Miriam Makeba, known internationally as "Mama Africa," to Elza Soares from Brazil, who continues to stun audiences at 79 years old with her powerful, raspy voice, to young artists including Yemi Aladé from Nigeria, dynamic Cuban singer Daymé Arocena and Sudanese songstress Alsarah.
We took inspiration from young Cameroonian pop star Reniss, whose song "La Sauce" we featured in our first edition of Fresh Cuts. Today, on her Instagram page, she is honoring the women who have come before her and influenced her music, drawing inspiration from both the style and essence of women like Bébé Manga and Bella Bellow, posing like them in some of their most iconic photographs.
Full Story @ Afropop.





(No Ratings Yet)


Loading...