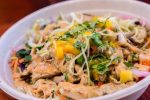 I am a writer by discipline, although discipline lately hasn't been my companion nearly often enough. It's much too easy to fritter away time surfing and clicking. But I think I've found a hideaway in a new spot that will fill my palate and offer me a quiet respite allowing me space to focus.
Jambo Kitchen is hopping with customers over the noon hour when office workers rush in for fish tacos or Jambo bowls, but during the morning hours, employees are still stirring their first pots of white rice and sweeping the floor in preparation of what's to come. That's when the back room is empty and kitchen clatter mixed with ambiance tunes are the only noises.
It's morning and I just ordered a Jambo bowl of African rice and fresh veggies, topped with Mediterranean sauce. My tummy's rumbling, wanting more than water infused with cucumber that I'm sipping, complementary of Jamal Hashi's and Mahad Ibrahim's new restaurant smartly located on Riverside Avenue, a few blocks east of Cedar Avenue.  The walls are colored in the rich tones of sunset: gold, amber, russet, and blue with a dreamy shade of ruby on the floor.
I'm dining-in this morning. There is limited seating in the front of the restaurant and last week, I sat at one of those small tables and devoured a fish taco with bisbaas sauce, relishing the savory flavors. An added sambusa with a saucy sauce made green by cilantro, lime, and jalapeños completes the meal. Jambo Kitchen offers a variety of seating including shared space with African Development Center. There's a conference room held jointly to provide for myriad customer configurations.
Today, however, I only have my single entree with nothing extra. When the server brought me my order, I had to double-check, "Is this really only veggies?" The chef prepared the cauliflower in a deceptively delicious way. I'm particular about the meat I eat. Head chef Hashi assured me that their meat is all Halal-prepared, though, so I needn't worry.
The only drawback for me that I experienced with both visits is the deep-fried portions added to my meal. I didn't expect my fish to be coated, but grilled, and I definitely anticipated my Jambo bowl with garden fresh vegetables to be all fresh, no frying. Tasty, absolutely, but not as heart-healthy as I had hoped. It would be nice if I knew to expect it so I could request no deep-fried food.
Knowing that Hashi has been cooking in restaurants in other locations including New York City, I asked him if this current return to Minneapolis would be permanent. Hashi says, "I feel complete in Minnesota. Everyone I love lives here, my family, my friends, my contacts."
That's saying a lot. When he was enticed to construct a menu for his cousin's restaurant in New York City in 2015, Harlem embraced him. Safari, the eatery, was raved about in the New York Times. The paper tagged the place as The Best African Restaurant in the city.
But it was overwhelming. Hashi explains that he wasn't satisfied with how he left Minneapolis. He wanted to come back for the opportunity to bring healthy food to his community. He found living in New York left him feeling a void in his life.
He's not involved with any other restaurants now. Now, it's just Jambo Kitchen, which he intends to grow and expand to other locations and include a food truck in the near-future.
This time, Hashi also has a business partner, someone who knows business better than food, but is committed to the same ideals as Hashi. "He can handle the culinary arts, I'll handle the business side," says Ibrahim.
Ibrahim has run his own consultancy firm for eight years. They build products and services with a social impact, targeting global markets. Ibrahim shares his own vision of Jambo Kitchen.
"We're committed to a certain way of doing business. We want ingredients to be as fresh as possible, to grind our own meat, and to cook with locally-sources ingredients," says Ibrahim.
My meal is finished. It was more than enough to satisfy me. But there's one more aspect to entice a return visit. Instead of dumping my container into the trash, I compost the bowl, napkin, and eating utensil; I add the bowl's lid to recycle along with my cup. No waste. This place aims to please in every detail. I could become a regular here—it's a great place to write poetry.
Susan is based in Minneapolis and reports on general assignments for Mshale with a focus on entertainment. In addition to reporting, she is also a writer, poet, teacher and coach.





(1 votes, average: 5.00 out of 5)


Loading...