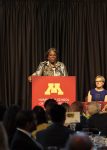 MINNEAPOLIS – The annual Hubert H. Humphrey Public Leadership Awards honored former Obama administration's Assistant Secretary of State for African Affairs Linda Thomas-Greenfield on Wednesday night for her more than three decades of work promoting the values of humanitarianism and responsible global engagement.
The awards are presented by the Humphrey School of Public Affairs at the University of Minnesota.
"I am humbled and puzzled by my selection for this award but absolutely elated," Thomas-Greenfield said during her acceptance speech as she mentioned the "giants" that have been past recipients of the award which includes former US vice president Walter Mondale.
Greenfield quoted Hubert Humphrey who once said that we can all make a difference "and that is exactly what I have strived to do as a public servant and as a foreign service officer," she said.
Before becoming Assistant Secretary of State for African Affairs during the second term of the Obama administration, Thomas-Greenfield was the US ambassador to Liberia. That country's president, Ellen Johnson-Sirleaf, surprised Greenfield with a video tribute where she praised her for a "distinguished career in service to the United States, Liberia, Africa and the world.
"In the time in our history when many of our young people and future leaders are questioning on whether they want to serve, I would say there is no better time as your nation and the world needs you," Thomas-Greenfield said.
Present during the awards were this year's Fellows of the  Mandela Washington Fellowship for Young African Leaders  who are attending the University of Minnesota which is a host university. The fellowship is a brainchild of president Obama.
Also honored were:
Monica Meyer, the executive director of OutFront Minnesota, for her leadership in grassroots organizing and in political strategy and advocacy, building coalitions among community activists around Minnesota. Under her leadership, OutFront co-founded Minnesotans United for All Families, the campaign that defeated the state's proposed constitutional amendment to limit the freedom to marry in 2012 and the push thereafter to legalize same sex marriage in 2013.
Tom Swain, the former Lilydale mayor and former University of Minnesota vice president, for his long and distinguished life of active citizenship, and his commitment to education and government, developing opportunities for future civic leaders.
Thor Companies, which most Minnesotans might know as Thor Construction, was founded in 1980 and is the state's largest black-owned corporation and one of the largest African American owned general contractors in the United States. The company was honored for its innovative approach to economic development, bringing opportunity and revitalization to north Minneapolis through strategic partnerships and investments. The company is currently building its new $30 million national headquarters in the predominantly black neighborhood of north Minneapolis. The company's founder and chairman, Richard Copeland and Ravi Norman, CEO of Thor for the last eight years received the award on behalf of the company.

Born and raised in Kenya's coastal city of Mombasa, Tom is the Founder, Editor-in-Chief and Publisher of Mshale which has been reporting on the news and culture of African immigrants in the United States since 1995. He has a BA in Business from Metro State University and a Public Leadership Credential from Harvard's Kennedy School of Government. He was the original host of Talking Drum, the signature current affairs show on the African Broadcasting Network (ABN-America), which was available nationwide in the United States via the Dish Network satellite service. On the show, he interviewed Nobel laureates such as 2004 Nobel Peace prize winner, Professor Wangari Maathai, the first woman from Africa to win the peace prize and heads of states. Tom has served and chaired various boards including Global Minnesota (formerly Minnesota International Center), the sixth largest World Affairs Council in the United States. He has previously served as the first Black President of the Board of Directors at Books for Africa. He also serves on the boards of New Vision Foundation and the Minnesota Multicultural Media Consortium. He has previously served two terms on the board of the United Nations Association. An avid runner, he retired from running full marathons after turning 50 and now only focuses on training for half marathons.





(No Ratings Yet)


Loading...