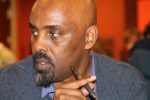 The History Theatre in St. Paul is seeking East African actors for a new play about Somali immigration. The play, A Crack In The Sky,  is written by Ahmed Ismail Yusuf and Harrison David Rivers. It is directed by Faye Price
Audition dates are this coming Monday, July 10 and Tuesday July 11 from 5pm-8pm on both days at the History Theatre, 30 E. 10th Street, St. Paul, MN 55101.
Auditions will involve reading sides from the script – you can download the slides here to prepare, or arrive early to the audition to preview printed copies.
It is a tale of Somali-American Ahmed Ismail Yusuf who, inspired by Maya Angelou, discovers the power of the written word as he traveled from Somalia to Minnesota in search of a better life.
Rehearsals will begin on January 18, 2018 in the evenings including weekends.
The play will open February 10 through March 4, 2018.
To sign up for the July 10 audition, go here.





(No Ratings Yet)


Loading...