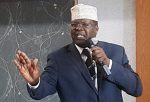 BROOKLYN PARK, Minn. – A Miguna Miguna diaspora forum in Minnesota veered into unexpected territory last weekend for those unfamiliar with his non-public persona: conciliatory remarks. Or what would pass for conciliation for the mercurial Miguna.
Miguna holds both Canadian and Kenyan citizenship and was 'deported' by the regime in power after he presided over the swearing in of Raila Odinga as the 'people's president.' A Kenyan court has since ordered the government to allow him back into Kenya without any interference. His 'deportation' became a cause celebre in the large Kenya diaspora many who also have dual citizenship, especially in North America.
All week the self-proclaimed general of the National Resistance Movement had been battling perceptions of irrelevancy following the 'handshake' between Kenyan president Uhuru Kenyatta and his erstwhile opponent Raila Odinga; the undisputed father of modern day opposition politics.
Even before Miguna took the stage on Saturday in the 'African suburb' of Brooklyn Park, the chairperson of the Minnesota chapter of the National Super Alliance (NASA), John Makori, cryptically endorsed the handshake, even as he demurred on its significance was to those seeking electoral justice in Kenya. Makori's remarks at the meeting exemplified the conflicted views towards the 'handshake' that the US Kenya diaspora has.
A week before his Minnesota appearance Miguna angered die-hard supporters of Raila Odinga. His critical remarks in Texas, delivered a day after the handshake,  seemed oblivious to the fact that most Raila Odinga supporters, by most accounts, had decided to give "Baba",  as Odinga is affectionately referred to, the benefit of the doubt.
During a 62-minute address in Minnesota, Miguna spoke about the Uhuru-Raila 'handshake' and expressly called it a surrender by the doyen of opposition politics and went on to explain why. He did not call it a sellout by Odinga in the fashion that he did in Texas but his remarks were just as biting in the characteristic Miguna fashion.
"One side has the army, has the air force, the navy, the police, the national intelligence, the treasury and you have nothing and then you tell your supporters 'demobilize' give up your arms to my enemies, we have surrendered and you tell me you have leverage?" Miguna asked rhetorically. He asked aloud how Odinga was going to ensure sure Uhuru adheres to whatever the two agreed to after the latter "had killed your supporters, maimed them, and stole your elections."
Miguna said it was noteworthy that terms of what Raila Odinga and Uhuru Kenyatta agreed was not public and cautioned that Kenyatta cannot be trusted.
Miguna told Minnesota Kenyans that NRM is a political movement and not a political party. Its primary purpose was not to contest elections and thus was equipped to take on the quest for electoral justice that Odinga has now seemingly abandoned.
"NRM was formed after we realized that following the fraudulent August 8 2017 elections that a system has been put in place in Kenya today and institutionalized, that has made credible and verifiable elections impossible," Miguna said.
He described Kenya's discredited Independent Electoral Boundaries Commission (IEBC) as an appendage of the ruling Jubilee party and its chairman, Wafula Chebukati as "Uhuru's errand boy" who goes to the president's office like a lamb to take and execute instructions. As for the IEBC's CEO, Ezra Chiloba, Miguna described him as someone who reports to the Interior ministry instead of to the IEBC Commissioners as required.
Miguna urged the Kenyan diaspora to contribute funds to towards the NRM cause for electoral justice.
"We need money and I am not ashamed to say so," Miguna said. He outlined the progress towards democracy in Kenya starting in the 80s and 90s that ended one party rule in the country that ultimately gave it the much heralded 2010 constitution that the "the rogue regime" in power was determined to undermine and return to the days of one party rule.
Quoting Frederick Douglass, the American social reformer and abolitionist, Miguna said, "if you want rain you have to be prepared for thunder; if you want water for your crops you have to be prepared for the storms; no one will give you power because you are a good beggar, or you are nice, as power is never given, even democratic power."
It was however not just fire and brimstone from Miguna. He likened NRM to Umkhonto we Sizwe (Spear of the Nation), the armed wing of Nelson Mandela's African National Congress (ANC).
"Umkhonto we Sizwe did not give up arms when Mandela was released but until he was sworn in, that is what gave them (ANC) power, it wasn't the English, the foreign diplomats, it was the Spear of the Nation, same thing with the Sinn Féin," Miguna thundered as he neared the end of his wide-ranging address.
He said Mandela resisted repeated calls to renounce Umkhonto we Sizwe.
"Have you heard Raila say anything against NRM?" Miguna asked. He said Odinga called him before meeting with Kenyatta for the 'handshake' and he did not try to dissuade him from going to State House, just like "he (Odinga) has not stopped me from leading NRM."
Miguna told the Minnesota meeting to bear in mind that Odinga is 73 and should not be expected to fight alone as the fight for electoral justice should be waged from multiple fronts. A point that found ready agreement from Ben Muko, a Kenyan-American candidate for City Council in Brooklyn Park (West Ward) who is skeptical of the 'handshake'.
"I like Raila (Odinga) but the fight has to continue," Muko said afterwards.
Miguna also confirmed that his going back to Kenya on March 26 is still on and said he was not afraid for his life "as my brain and God are my protection."
In a March 9 YouTube post, Miguna said upon his return there will be a "Lunga Lunga dance of liberation" without elaborating. Lunga Lunga is a border post town at the southeast border between Kenya and Tanzania. The latter is the country Miguna fled through in 1988 on his way to exile in Canada during the autocratic Daniel Arap Moi presidency. Miguna had been detained for his political activism while a student at the University of Nairobi. Upon his release, he fled the country fearing for his life. At the Minnesota meeting, Miguna was clear that he is a changed man and he no longer fears for his life as he seeks electoral justice for Kenyans.
At the conclusion of his remarks, supporters posed for photos with him for $10 as a fundraiser for the NRM and to offset costs of the Minnesota event.

Born and raised in Kenya's coastal city of Mombasa, Tom is the Founder, Editor-in-Chief and Publisher of Mshale which has been reporting on the news and culture of African immigrants in the United States since 1995. He has a BA in Business from Metro State University and a Public Leadership Credential from Harvard's Kennedy School of Government. He was the original host of Talking Drum, the signature current affairs show on the African Broadcasting Network (ABN-America), which was available nationwide in the United States via the Dish Network satellite service. On the show, he interviewed Nobel laureates such as 2004 Nobel Peace prize winner, Professor Wangari Maathai, the first woman from Africa to win the peace prize and heads of states. Tom has served and chaired various boards including Global Minnesota (formerly Minnesota International Center), the sixth largest World Affairs Council in the United States. He has previously served as the first Black President of the Board of Directors at Books for Africa. He also serves on the boards of New Vision Foundation and the Minnesota Multicultural Media Consortium. He has previously served two terms on the board of the United Nations Association. An avid runner, he retired from running full marathons after turning 50 and now only focuses on training for half marathons.





(No Ratings Yet)


Loading...