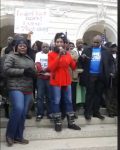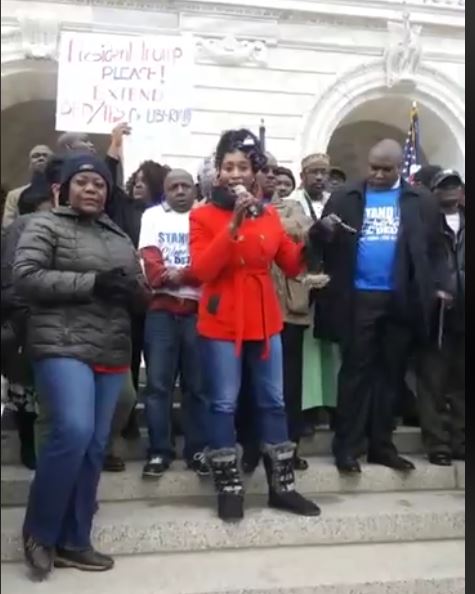 President Trump today gave Liberians under the Deferred Enforced Departure (DED) some breathing room through March 31, 2019. Their DED status that president Obama extended for 18 months as he was about to leave office in 2016 was set to expire on March 31, 2018. Liberians nationally and locally under the direction of groups such as African Immigrant Services (AIS) and Acer have mobilized and have lobbied their legislators and the White House to extend DED.
The DED breather comes less than 24 hours after Liberians in Minnesota held a rally at the State Capitol in support of a DED extension that hundreds attended.
In a Presidential Memoranda to the Secretaries of State and Homeland Security, Trump said that the situation in Liberia does not warrant an extension of DED but that "the foreign policy interests of the United States warrant affording an orderly transition ("wind-down") period to Liberian DED beneficiaries."
The presidential memo went on to say that, the 12-month period will give the government of Liberia time to reintegrate those returning from the United States and "to allow DED beneficiaries who are not eligible for other forms of immigration relief to make necessary arrangements and to depart the United States."
According to the presidential memo, the 12-month wind-down period shall apply to any current Liberian DED beneficiary as well as any employment authorization.
Come March 31, 2019, Liberians under DED will be in the same situation and will face a risk of deportation unless they have received another form of immigration relief. For now however, they can breathe a sigh of relief.

Born and raised in Kenya's coastal city of Mombasa, Tom is the Founder, Editor-in-Chief and Publisher of Mshale which has been reporting on the news and culture of African immigrants in the United States since 1995. He has a BA in Business from Metro State University and a Public Leadership Credential from Harvard's Kennedy School of Government. He was the original host of Talking Drum, the signature current affairs show on the African Broadcasting Network (ABN-America), which was available nationwide in the United States via the Dish Network satellite service. On the show, he interviewed Nobel laureates such as 2004 Nobel Peace prize winner, Professor Wangari Maathai, the first woman from Africa to win the peace prize and heads of states. Tom has served and chaired various boards including Global Minnesota (formerly Minnesota International Center), the sixth largest World Affairs Council in the United States. He has previously served as the first Black President of the Board of Directors at Books for Africa. He also serves on the boards of New Vision Foundation and the Minnesota Multicultural Media Consortium. He has previously served two terms on the board of the United Nations Association. An avid runner, he retired from running full marathons after turning 50 and now only focuses on training for half marathons.





(No Ratings Yet)


Loading...