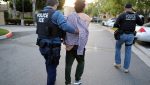 On Feb. 27, 2017, a man sits, sipping tea at the dining room table in his Pennsylvania home when federal immigration officers arrive at his door. Once inside, they demand his  ID, which shows he is not a US citizen. Then, they arrest him and his co-worker, who arrives for their morning carpool. Neither man has a criminal record.
Four months later, his lawyer argued in immigration court that none of the evidence the officers gathered should have be used.
According to lawyer Thomas Griffin's motion to suppress the evidence, which he provided to PRI, the officers flashed their badges and asked to be let into the home. They were looking for the prior occupant of the home, not his client.  After months in immigration detention, both were deported to Turkey.
Griffin redacted his client's name from the documents he gave PRI because he isn't able to reach his client in Turkey for consent; immigration court records are not generally available to the public without consent of the immigrant involved.
In a criminal court, any evidence found by such an arrest would almost certainly be thrown out because the officers entered his home without a search warrant. But immigration cases are civil, not criminal — a distinction that makes a difference.
Suspected undocumented immigrants have the same constitutional rights as citizens, but the standards for civil arrests are much more lenient than in criminal cases. In other words, federal agents with Immigration and Customs Enforcement (ICE) does not follow the same standards as other law enforcement agencies to protect people from unreasonable search and seizure by the government.





(No Ratings Yet)


Loading...