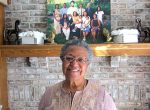 Minnesota is home to several hundred immigrants and refugees who were physicians in their home countries. They face barriers that thwart their reentry to medicine, and most are underemployed and unable to contribute to the state's primary care workforce and improve health equity for minority and immigrant communities.
Immigrants who were physicians in their home countries will be the focus at a forum on May 1, hosted by the Federal Reserve Bank of Minneapolis in collaboration with other stakeholders that include the Minnesota Department of Health. According to organizers, thought leaders from the healthcare, foundation, government, and non-profit sectors for an overview and update on trends in immigration, healthcare, and employment.
The forum will run 10am to 1:30pm and registration is required.
Wilhelmina Holder, a Liberian-American, who has been a longtime advocate of allowing immigrants who were physicians in their countries to practice in Minnesota, will give the opening remarks. She is the cofounder of New Americans Alliance for Development, one of the forum partners.
More information and registration can be found here.





(No Ratings Yet)


Loading...