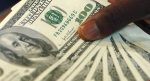 Remittances to low- and middle-income countries rebounded to a record level in 2017 after two consecutive years of decline, says the World Bank's latest Migration and Development Brief.
The Bank estimates that officially recorded remittances to low- and middle-income countries reached $466 billion in 2017, an increase of 8.5 percent over $429 billion in 2016. Global remittances, which include flows to high-income countries, grew 7 percent to $613 billion in 2017, from $573 billion in 2016.
The stronger than expected recovery in remittances is driven by growth in Europe, the Russian Federation, and the United States. The rebound in remittances, when valued in U.S. dollars, was helped by higher oil prices and a strengthening of the euro and ruble.
Remittance inflows improved in all regions and the top remittance recipients were India with $69 billion, followed by China ($64 billion), the Philippines ($33 billion), Mexico ($31 billion), Nigeria ($22 billion), and Egypt ($20 billion).
Remittances are expected to continue to increase in 2018, by 4.1 percent to reach $485 billion. Global remittances are expected to grow 4.6 percent to $642 billion in 2018.
Longer-term risks to growth of remittances include stricter immigration policies in many remittance-source countries. Also, de-risking by banks and increased regulation of money transfer operators, both aimed at reducing financial crime, continue to constrain the growth of formal remittances.
The global average cost of sending $200 was 7.1 percent in the first quarter of 2018, more than twice as high as the Sustainable Development Goal target of 3 percent. Sub-Saharan Africa remains the most expensive place to send money to, where the average cost is 9.4 percent. Major barriers to reducing remittance costs are de-risking by banks and exclusive partnerships between national post office systems and money transfer operators. These factors constrain the introduction of more efficient technologies—such as internet and smartphone apps and the use of cryptocurrency and blockchain—in remittance services.
"While remittances are growing, countries, institutions, and development agencies must continue to chip away at high costs of remitting so that families receive more of the money. Eliminating exclusivity contracts to improve market competition and introducing more efficient technology are high-priority issues," said Dilip Ratha, lead author of the Brief and head of KNOMAD.
In a special feature, the Brief notes that transit migrants—who only stay temporarily in a transit country—are usually not able to send money home. Migration may help them escape poverty or persecution, but many also become vulnerable to exploitation by human smugglers during the transit. Host communities in the transit countries may find their own poor population competing with the new-comers for low-skill jobs.
"The World Bank Group is mobilizing financial resources and knowledge on migration to support migrants and countries with the aim of reducing poverty and sharing prosperity. Our focus is on addressing the fundamental drivers of migration and supporting the migration-related Sustainable Development Goals and the Global Compact on Migration," said Michal Rutkowski, Senior Director of the Social Protection and Jobs Global Practice at the World Bank.
Multilateral agencies can help by providing data and technical assistance to address adverse drivers of transit migration, while development institutions can provide financing solutions to transit countries. Origin countries need to empower embassies in transit countries to assist transit migrants.
The Global Compact on Migration, prepared under the auspices of the United Nations, sets out objectives for safe, orderly and regular migration. Currently under negotiation for final adoption in December 2018, the global compact proposes three International Migration Review Forums in 2022, 2026 and 2030. The World Bank Group and KNOMAD stand ready to contribute to the implementation of the global compact.
Regional Remittance Trends
Remittances to the East Asia and Pacific region rebounded 5.8 percent to $130 billion in 2017, reversing a decline of 2.6 percent in 2016. Remittance to the Philippines grew 5.3 percent in 2017 to $32.6 billion. Flows to Indonesia are expected to grow 1.2 percent to $9 billion in 2017, reversing the previous year's sharp decline. Stronger growth in transfers from countries in Southeast Asia helped offset lower remittance flows from other regions, particularly the Middle East and the United States. Remittances to the region are expected to grow 3.8 percent to $135 billion in 2018.
Remittances to countries in Europe and Central Asia grew a rapid 21 percent to $48 billion in 2017, after three consecutive years of decline. Main reasons for the growth are stronger growth and employment prospects in the euro area, Russia, and Kazakhstan; the appreciation of the euro and ruble against the U.S. dollar; and the low comparison base after a nearly 22 percent decline in 2015. Remittances in 2018 will moderate as the region's growth stabilizes, with remittances expected to grow 6 percent to $51 billion.
Remittances flows into Latin America and the Caribbean grew 8.7 percent in 2017, reaching another record high of nearly $80 billion. Main factors for the growth are stronger growth in the United States and tighter enforcement of U.S. immigration rules which may have impacted remittances as migrants remitted savings in anticipation of shorter stays in the United States. Remittance growth was robust in Mexico (6.6 percent), El Salvador (9.7 percent), Colombia (15 percent), Guatemala (14.3), Honduras (12 percent), and Nicaragua (10 percent). In 2018, remittances to the region are expected to grow 4.3 percent to $83 billion, backed by improvement in the U.S. labor market and higher growth prospects for Italy and Spain.
Remittances to the Middle East and North Africa grew 9.3 percent to $53 billion in 2017, driven by strong flows to Egypt, in response to more stable exchange rate expectations. However, the growth outlook is dampened by tighter foreign-worker policies in Saudi Arabia in 2018. Cuts in subsidies, increase in various fees and the introduction of a value added tax in Saudi Arabia and the United Arab Emirates have increased the cost of living for expatriate workers. In 2018, growth in remittances to the region is expected to moderate to 4.4 percent to $56 billion.
Remittances to South Asia grew a moderate 5.8 percent to $117 billion in 2017. Remittances to many countries appear to be picking up after the slowdown in 2016. Remittances to India picked up sharply by 9.9 percent to $69 billion in 2017, reversing the previous year's sharp decline. Flows to Pakistan and Bangladesh were both largely flat in 2017, while Sri Lanka saw a small decline (-0.9 percent). In 2018, remittances to the region will likely grow modestly by 2.5 percent to $120 billion.
Remittances to Sub-Saharan Africa accelerated 11.4 percent to $38 billion in 2017, supported by improving economic growth in advanced economies and higher oil prices benefiting regional economies. The largest remittance recipients were Nigeria ($21.9 billion), Senegal ($2.2 billion), and Ghana ($2.2 billion). The region is host to several countries where remittances are a significant share of gross domestic product, including Liberia (27 percent), The Gambia (21 percent), and Comoros (21 percent). In 2018, remittances to the region are expected to grow 7 percent to $41 billion.





(1 votes, average: 5.00 out of 5)


Loading...