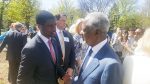 Nobel laureate and former United Nations secretary-general, Kofi Annan, said on Monday the world is squandering the potential of African children by not giving them access to education.
"Despite significant progress in recent years millions of African children have never set foot in a classroom or owned a book of their own in their lives," said Annan.
Annan, co-chair of the Books for Africa Law and Democracy Initiative alongside former US vice-president Walter Mondale, was speaking during a reception to mark the 30th anniversary of Books for Africa, the St. Paul non-profit that ships millions of donated school textbooks to the continent.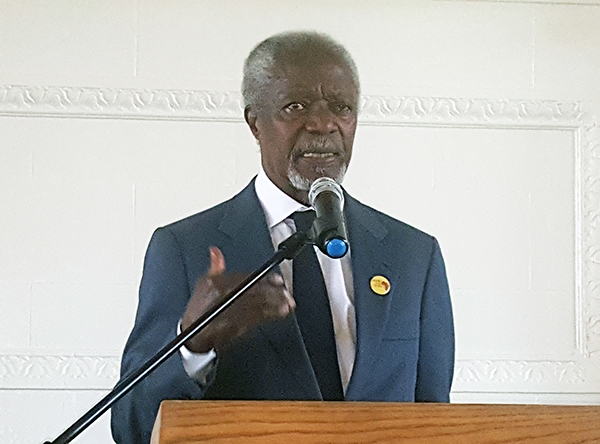 "Numerous studies have shown that no development tool is more effective than education and literacy," Annan said. "When people are able to access education, they can break free of the cycle of poverty and contribute to building a fairer and more peaceful society."
Annan said the ongoing literacy crisis in Africa is a source of great concern, as the children who are not attending school are the future doctors and teachers that the continent will miss.
While commending Books for Africa for the progress it has made in the last 30 years in sending books to address, he nonetheless urged the organization and its supporters to "redouble their efforts."
"One area of particular importance to Africa and the world is the strengthening of the rule of law," Annan said, as he made the case about the significance of Books for Africa's Law and Democracy Initiative, which sends new law books to law schools in Africa. Thomson Reuters provides the Law and Democracy Initiative with new law books and that company's vice-president for Government Affairs, former Minneapolis mayor Sharon Sayles Belton was on hand to reiterate Thomson Reuters continued support.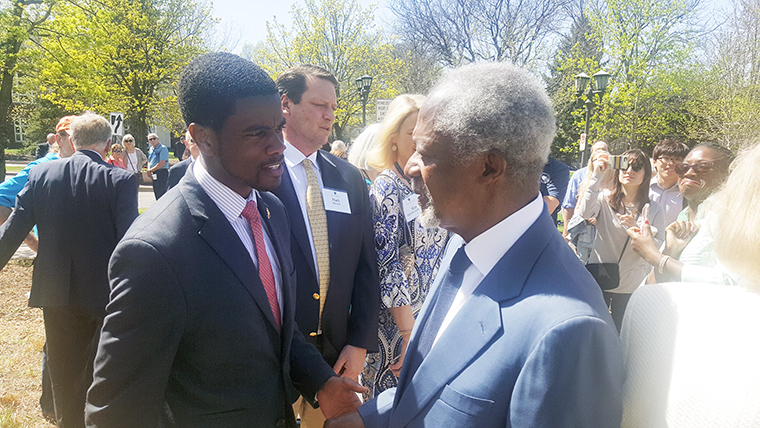 Annan said his conviction about the rule of law being the pillar to security has grown stronger since he founded the Kofi Annan Foundation.
"No society can prosper without the rule of law and respect for human rights," Annan went on to say.
The Jack Mason Law and Democracy Initiative is named after former US federal judge Jack Mason who was also a Books for Africa board member. His wife, Vivian, was present as Annan addressed the 30th anniversary reception. Also, present were former US vice-president Walter Mondale who co-chairs the initiative with Annan. Nane Annan, Kofi Annan's wife, accompanied him to the celebration.
"Numerous organizations have benefitted from it including Women Lawyers Association of Gambia, Zambia Lawyers for Human Rights and the parliament of Liberia," said Annan.
One of those inspired by Mr. Annan's many years of global service is Jote Taddese, president of the Books for Africa board of directors. A native of Ethiopia, Taddese said he was graduating college in the US in 1997 when "I learnt a great African diplomat had been elected UN secretary-general."
Kofi Annan Institute for Global Citizenship
Earlier in the day, Mr. Annan, was the focus of a historical development at his alma mater, Macalester College when that institution renamed the Institute for Global Citizenship to the Kofi Annan
Institute for Global Citizenship in his honor. The institute faces Grand Avenue and is on the intersection of the busy and historical Grand and Snelling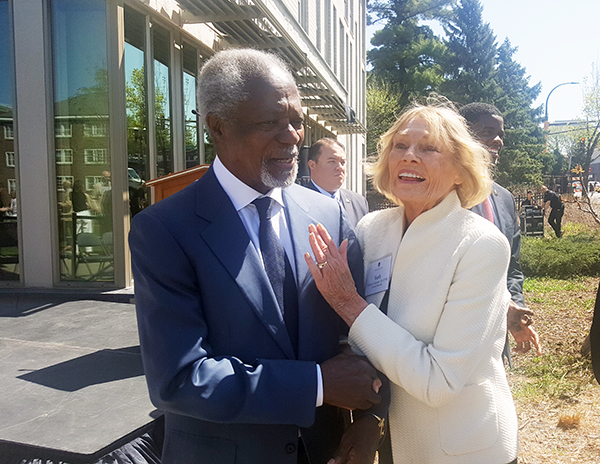 avenues.
At the dedication, Annan sat next to another historical figure in his own right. Saint Paul Mayor Melvin Carter was born and grew up within walking distance of Macalester and could not hide his joy of having the opportunity to sit next to Mr. Annan and made sure everyone knew it.
"I am honored to just be sitting next to you and I wanted to make sure my staff got a picture of us sitting next to each other," Mayor Carter said to loud laughter. Carter became St. Paul's first black mayor when he worn in a convincing fashion last November.
Macalester President Brian Rosenberg called Mr. Annan a role model for everyone. He referred to him as the most "visible and courageous" UN secretary-general of our time that has inspired many.
"It is one of Macalester's great privilege to claim Kofi Annan as one of our graduates, and Macalester's great privilege to rename and rededicate the Institute for Global Citizenship, as the Kofi Annan Institute for Global Citizenship," Rosenberg said to loud applause. He and added that, henceforth "I don't know about everyone but I will just be calling it The Annan Institute."
Speaking before the unveiling of the institute's new name, Annan told students not to be afraid to lead and not to hesitate, as "one is never too young to lead."
Annan was part of the class of 1961 at Macalester College.

Born and raised in Kenya's coastal city of Mombasa, Tom is the Founder, Editor-in-Chief and Publisher of Mshale which has been reporting on the news and culture of African immigrants in the United States since 1995. He has a BA in Business from Metro State University and a Public Leadership Credential from Harvard's Kennedy School of Government. He was the original host of Talking Drum, the signature current affairs show on the African Broadcasting Network (ABN-America), which was available nationwide in the United States via the Dish Network satellite service. On the show, he interviewed Nobel laureates such as 2004 Nobel Peace prize winner, Professor Wangari Maathai, the first woman from Africa to win the peace prize and heads of states. Tom has served and chaired various boards including Global Minnesota (formerly Minnesota International Center), the sixth largest World Affairs Council in the United States. He has previously served as the first Black President of the Board of Directors at Books for Africa. He also serves on the boards of New Vision Foundation and the Minnesota Multicultural Media Consortium. He has previously served two terms on the board of the United Nations Association. An avid runner, he retired from running full marathons after turning 50 and now only focuses on training for half marathons.





(No Ratings Yet)


Loading...