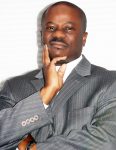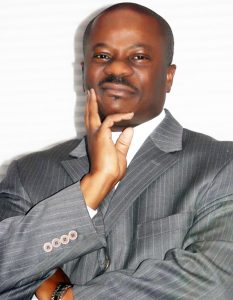 Charles Garjay Goah, a beloved Liberian-American pastor who delivered the gospel to many as the longtime pastor of United Christian Fellowship Church in Minneapolis' North Side, died on May 10. He was 55.
The cause was cancer, his wife of 20 years said.
For over two decades, pastor Goah led a ministry credited with winning converts with a style that went beyond the spiritual needs of those he ministered to. Even as he preached the gospel, he was known to have a keen interest in the civic and entrepreneurial endeavors of those he ministered to, whether they were his parishioners or not.
"He would ask me every time we met, how my business was doing and if there was anything he could do to help", Theodore Morgan, a Liberian-American businessman, said.
Pastor Goah was also keen in building bridges beyond the Liberian community. Boyd Morson, a civic leader in the City of Brooklyn Park wrote in a Facebook message "Pastor Goah was a friend and supporter of mine. And he shared meaningful and uplifting words and conversations with me about my campaign and vision as Mayor in Brooklyn Park. Pastor Goah also sincerely thanked me for my presence, involvement and engagement within the Liberian community over the many years."
Goah was born in Liberia's capital city of Monrovia on June 11, 1962. He first came to the United States as a youth missionary in 1988 before the civil war broke out in his native Liberia. He had received some limited theological training in Liberia but got his full training as a minister while in the United States. He received his bachelors in theology while in Virginia and a master's degree in theology from ACTS International Bible College in Blaine, Minnesota. He also received masters in global leadership from Fuller Theological Seminary.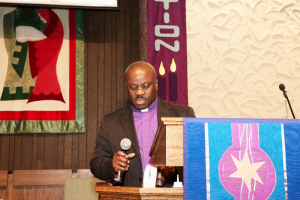 Goah met his wife Danuta in 1995. She had come to the United States on a similar youth mission trip through a Polish church.
"He came and visited me and my family in my hometown of Gorzow Wielkopolski in Poland and we got married in 1997 in my hometown," Mrs. Goah said.
At the time of his death, Goah was enrolled at Bethel University pursuing his doctorate. He had already completed a year of the program. He is survived by his wife Danuta, son Jakub, daughter Mayetti, his mother Julia Gaarduwar who lived with them, his brother in Liberia Stanley Goah and a large extended family.
The late Goah was also an author. He authored two books. The first one he wrote was Adultery: A Contemporary Interpretation. In March 2017, he authored From Praise to Petition: Experiencing the Power and Passion of Prayer, which is still available in bookstores, and Amazon.
He was also an active member of the Liberian Ministerial Alliance in Minnesota as well as the Brooklyn Area Ministerial Association.
He was known to preach love and peace and was prominent during difficult times that the community faced.
In 2015, he was the presiding pastor at the high profile funeral of Henry T. McCabe, a Minnesota Department of Revenue Corporate Auditor, who had been missing for almost a month and was discovered dead on Rush Lake in New Brighton. The death that shook the Liberian and wider African community to its core. Delivering the sermon at the McCabe funeral, pastor Goah preached from among other books in the bible, the book of Luke, directing mourners specifically to chapter 7. That chapter tells the story of how Jesus raised the son of the widow of Nain from the dead. Goah said death for those left behind many times leads to suffering but like what Jesus did with the widow, he showed compassion towards her.
"In our darkest moments, where there is the presence of Jesus, there cannot be hatred," Goah told mourners.
The funeral service will be on June 16, according to Reverend Francis Tabla in a statement on behalf of the funeral planning committee. The June 16 funeral will be preceded by the viewing of the body on June 15 at United Christian Fellowship Church.
Updated details on the viewing, the wake and funeral of the late pastor Charles Garjay Goah can be found at this link.

Born and raised in Kenya's coastal city of Mombasa, Tom is the Founder, Editor-in-Chief and Publisher of Mshale which has been reporting on the news and culture of African immigrants in the United States since 1995. He has a BA in Business from Metro State University and a Public Leadership Credential from Harvard's Kennedy School of Government. He was the original host of Talking Drum, the signature current affairs show on the African Broadcasting Network (ABN-America), which was available nationwide in the United States via the Dish Network satellite service. On the show, he interviewed Nobel laureates such as 2004 Nobel Peace prize winner, Professor Wangari Maathai, the first woman from Africa to win the peace prize and heads of states. Tom has served and chaired various boards including Global Minnesota (formerly Minnesota International Center), the sixth largest World Affairs Council in the United States. He has previously served as the first Black President of the Board of Directors at Books for Africa. He also serves on the boards of New Vision Foundation and the Minnesota Multicultural Media Consortium. He has previously served two terms on the board of the United Nations Association. An avid runner, he retired from running full marathons after turning 50 and now only focuses on training for half marathons.





(1 votes, average: 3.00 out of 5)


Loading...