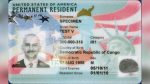 U.S. Citizenship and Immigration Services announced Monday that thousands of Permanent Resident cards will be recalled because of a production error.
The federal immigration agency said in a news release approximately 8,543 Green Cards will need to be returned because they were printed with an incorrect "Resident Since" date.
Those affected were spouses of U.S. citizens approved for Form I-751, a petition to remove conditions on residence status. The form is used for people who received a conditional Green Card based on a marriage to a U.S. citizen or permanent resident and apply to obtain a regular Permanent Resident card.
Spouses of U.S. citizens may apply for naturalization after three years of permanent residency. Because of the incorrect "Resident Since" date on the Permanent Resident cards, applicants could wait longer than necessary to apply to become U.S. citizens.
According to the USCIS, the affected cards were mailed between February and April 2018.
The agency said it will mail notices to individuals who received the incorrect cards and they should return their inaccurate Green Card to USCIS in the provided prepaid envelope within 20 days of receiving the notice. They may also return their cards to USCIS field offices. USCIS will send replacement Green Cards within 15 days of receiving the incorrect card.
The Green Card holders' status as lawful permanent resident is not affected by the recall, the USCIS said.
If affected individuals need to travel internationally or prove their lawful permanent residence while they wait for a replacement card, they may contact the USCIS at 800-375-5283 to determine if they need additional proof.





(No Ratings Yet)


Loading...