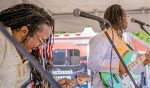 Fans of African music in the Twin Cities have reason to celebrate this summer. Not only is the Cedar Cultural Center bringing back its annual "African Summer" music series which features artists from Africa but there will be a double dose this year with downtown Minneapolis playing host to "Music for Mandela" courtesy of the Minnesota Orchestra through its annual Sommerfest.
Mshale is involved with both events as one of the media sponsors. Hint: You might want to be a member of Mshale's Text Club if you are not already. Text Africa to 24587 to join.
A look first at the "African Summer". The Cedar Cultural Center Center's Global Roots Festival of which "African Summer" is part of returns to the Twin Cities for its tenth year, bringing a rousing lineup of musicians from Africa and across the world.
The series kicked off on Friday, June 8th with a performance from the renowned Malian worldbeat musicians, Amadou & Mariam. The husband/wife duo released their 8th studio album, La Confusion, in September 2017, and are currently touring the United States.
The African Summer series continues with a performance from prominent Touareg singer-songwriter and guitarist, Bombino, who will perform on Sunday, July 15th at The Cedar with opening act, Black Widows. Bombino's latest album, Deran, loosely translated from Tamasheq as "best wishes," deepens the message of his previous records, honoring and celebrating his roots, balancing rock, acoustic, and tuarreggae sounds.
Following Bombino is Chicago-founded and Barcelona-based group, Alma Afrobeat Ensemble. The nine-piece collective will showcase their modern take on Afrobeat on Sunday, July 22nd.
Next on the lineup is activist and world-renowned Afrobeat pioneer, Femi Kuti & The Positive Force. Son of the legendary, Fela Kuti, Femi Kuti will grace The Cedar stage on Tuesday, July 31st.
The Festival will continue with a performance from Grammy Award-winning Tuareg band, Tinariwen on Tuesday, August 14th. The guitar-driven group was founded in 1979 and has its roots in "the great bend" region of West Africa.
African Summer Ticket info @ Cedar website.
Music for Mandela @ Sommerfest 2018 & Nelson Mandela's daughter
Back in March we alerted you to the fact that the Minnesota Orchestra will have Nelson Mandela as a focus in this year's Sommerfest festival but that was before the full lineup was announced that includes local acts. The Minnesota Orchestra will explore musical expressions of peace, freedom and reconciliation in a celebration of Nelson Mandela's Centenary that concludes with a five-city tour of South Africa.
The Orchestra has come up with an ingenious ticketing system for Music for Mandela that starts as low as $5. Those coming for the music also have an opportunity to bring a book to donate to be sent to Africa by Books for Africa.
Music for Mandela runs July 13 through August 1 but here are some highlights that might interest you:
Celebrating Mandela at 100 on July 20 @ Orchestra Hall: In addition to a speech by Nelson Mandela's eldest daughter, Dr. Makaziwe Mandela, Minnesota Orchestra director Osmo Vänskä will lead an evening of pageantry celebrating the life journey of Nelson Mandela on his centenary—through words, video tributes and music. Prices start at $5.
12-Hour Music Marathon on July 21 (FREE!): This will include visiting groups from Africa as well as local talent like Papa Shalita and Marimba Africa and performances will be on multiple stages.
Ladysmith Black Mambazo on July 31: The Grammy-winning South African group will close out Music for Mandela a  day before a send-off concert on August 1 for the Minnesota Orchestra that will be visiting South Africa immediately after Sommerfest.
Music for Mandela tickets and info are at this special Sommerfest page.

Bethel is a general assignment reporter and photojournalist at Mshale. She is based in Atlanta.





(No Ratings Yet)


Loading...