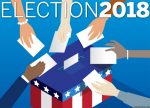 We are getting ready to send questionnaires to political candidates in Minnesota jurisdictions that the Mshale print edition newspaper is distributed. The questionnaires will guide our endorsements which will be published in the October edition of Mshale.
We have our questions ready but would like to open it up to our readers to chip in with their own questions for possible inclusion.
Send your questions by Wednesday, September 12 to: Elections2018@mshale.com
We will be endorsing candidates in the following areas with a good concentration of African immigrants and have a stake in who gets elected:
1.) US Congressional Districts (Minnesota only): Districts 3, 4 and 5.
2.) Minnesota House of Representatives: District 36B (Brooklyn Park), District 40B (Brooklyn Center), All Minneapolis and St. Paul House Districts including 60B and 62A.
3.) Municipal Races: Brooklyn Park and Brooklyn Center.
In areas where we have African immigrants running for office, we will provide coverage of their races but might not necessarily give an endorsement if the demographics of the district or area does not boast of a healthy African immigrant population.





(No Ratings Yet)


Loading...