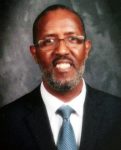 Abdisalam Adam, an assistant principal at Highland Park High School in the St. Paul Public Schools and a Doctor of Education candidate at Bethel University was on Wednesday unanimously voted in by the Fridley School Board to serve on its board.  Adam will complete the remainder of another board member, Kim Sampson, who resigned effective December 31 due to increased commitments at her day job.
The district, which has a 93% graduation rate, has a student enrollment of over 2,800.
"It is an honor and privilege for me to be selected to serve on the Board of Fridley Public Schools and I am very grateful to the School Board members for giving me this opportunity," Adam said in a statement. His youngest child graduated from the district's Fridley High School.
The 52-year old Adam, born and raised in Somalia, brings an extensive resume to the first-ring suburb school district's six-member board. With 23 years of experience in education, his work experience includes teaching English as a Second Language (ESL) at various schools including the St. Paul Public Schools. He has also been an interim principal and social studies teacher before his current position as assistant principal at the state's second largest school district.
He is also a fixture at area non-profit boards where he serves. He has served on boards including Al-Amal School Board, Neighborhood House, the Islamic Civic Society of America, and the American Relief Agency for the Horn of Africa. He has also had stints on advisory committees, including those with the Minnesota Department of Education.
"Mr. Adam brings with him broad community involvement both in Fridley and beyond our borders," said Fridley School Board Chair Mary Kay Delvo, adding that Adam's previous school board experience adds to his wealth of knowledge on the collaborative role and function of school boards. "On top of his strong skills and experience, as a career educator, he will bring a valued lens to Board discussions on our priority work of supporting increased achievement and opportunities for all our students," said Delvo.
Adam received his Master of Science in Curriculum and Instruction from St. Cloud State University, and his K-12 principal license from Bethel University where he is currently a doctoral candidate. His Bachelor of Education in Teaching English as a Second Language is from King Saud University in Riyadh, Saudi Arabia.
"As a member of the Fridley School Board, I will strive for equity in governance and work hard to ensure that the students of Fridley Public Schools receive a world-class education that meets the challenges of a global work place," said Adam.

Born and raised in Kenya's coastal city of Mombasa, Tom is the Founder, President and Publisher of Mshale. As the founder, he did a lot of the reporting during the humble beginnings of the newspaper. While he still does the occasional reporting, he now concentrates on the publishing side of the news operation. Tom was also the original host of Talking Drum, the signature current affairs show on the African Broadcasting Network (ABN-America), which was available nationwide in the United States via the Dishnetwork satellite service. On the show, he interviewed Nobel laureates such as 2004 Nobel Peace prize winner, Professor Wangari Maathai, the first woman from Africa to win the peace prize and heads of states such as the president of The Gambia, Yahya Jammeh at State House, Banjul. Tom has served and chaired various boards including Global Minnesota (formerly Minnesota International Center), the sixth largest World Affairs Council in the United States. He has previously served as President of the Board of Directors of Books for Africa, the largest shipper of donated books to Africa. He also serves on the boards of New Vision Foundation and the Minnesota Multicultural Media Consortium. Tom also served two terms on the board of the United Nations Association. He retired from running full marathons after turning 50 and now only focuses on half marathons.





(2 votes, average: 5.00 out of 5)


Loading...