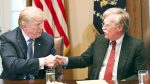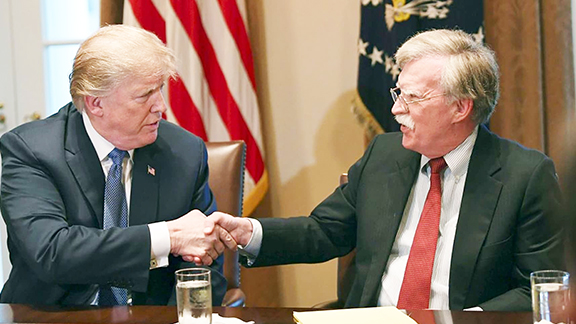 Donald Trump's administration has unveiled its policy towards Africa, which it says will counter the growing influence of its geopolitical rivals, China and Russia, on the continent. John Bolton, Trump's assistant for National Security Affairs outlined the "New Africa Strategy" on Thursday December 13, in a speech to an audience of NGOs leaders, policy experts, business representatives and diplomats gathered at the Washington, D.C.-based conservative think tank, The Heritage Foundation.
"China is deliberately and aggressively targeting their investments in the region to gain competitive advantage over the United States," Bolton said. "China uses bribes, opaque agreements, and the strategic use of debt to hold Africa captive to Beijing's wishes and demands."
Bolton said that the new policy's goal was to ensure that African countries achieved economic and political independence, something he said China and Russia had no interest in.
"Lasting stability, prosperity, independence, and stability on the African continent are in the national security interests of the United States," Bolton said. "We ask only of reciprocity. Never for subservience."
Africa is so strategically important, Bolton said, that the administration prioritized the creation of the "New Africa Strategy" and finished it within the first two years of Trump's presidency. He added that Trump's Africa policy was unveiled two years earlier than the "previous administration's", another apparent dig at President Barack Obama's administration, reminiscent of the many comparisons Trump has drawn to his predecessor.
Trump's policy towards Africa will have American interests at its core, according to Bolton. He outlined three pillars of the policy, which include trade, combating terrorism, and U.N. peacekeeping missions.
Although the policy doesn't seem deviated far from his predecessors' in its rhetoric about trade and antiterrorism, it will be different when it comes to supporting U.N. peacekeeping missions in Africa. Bolton said America will no longer offer financial support to U.N. peacekeeping missions that are "unproductive, unsuccessful and unaccountable."
"We want something to show for Americans' hard-earned tax dollars," he said. "The United States will no longer provide indiscriminate assistance across the continent without focus or prioritization."
South Sudan was a good example of a country that had received U.S. funding but had failed to achieve the desired effect, according to Bolton. In 2016, the United States provided $3.6 billion in humanitarian aid to the country.
Edwin Okong'o is a Mshale Contributing Editor. Formerly he was the newspaper's editor.





(No Ratings Yet)


Loading...