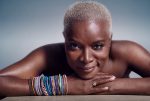 Like a stone skimming across the surface of the waters, songstress of Benin and Africa, Angelique Kidjo, will skate across the City of Lakes as she tours the States from Los Angeles to Chicago and then Boston. Minnesota in the middle of winter still offers Kidjo what she seeks.
Speaking to Mshale by phone in early January, three-time Grammy winner, Kidjo, described her first encounter with Minnesota this way. "Sometimes you need air, you need space, Minnesota has all this flat land, this space. [Contrast that to] New York, they have all the buildings, there's no room. I have a feeling of breathing that lifts me up in Minnesota."
Her performance includes many languages from Africa and Europe. "When I'm on stage, you might not speak my language, but you can hear the emotion. Sometimes we can't understand every single [word] but we are all on the sound wave, the vibration of the human family," she says to reassure her fans who might only be fluent in one tongue.
Performing for more than twenty-five years, Kidjo continues to embrace the value of music. "I cannot foresee the world without music," she says. "Without music, we lose everything."
Kidjo performs with her band February 19th on stage at the Cedar Cultural Center in Minneapolis. Her current tour focuses on people in exile. Additionally, this tour, Remain in Light, naturally influenced by the polyphonic music of her continent, pays homage to the roots of modern Rock.
Tickets are at this link.
Susan is based in Minneapolis and reports on general assignments for Mshale with a focus on entertainment. In addition to reporting, she is also a writer, poet, teacher and coach.





(2 votes, average: 5.00 out of 5)


Loading...