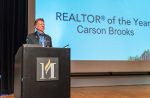 Longtime Minneapolis real estate broker, Carson Brooks was presented with the prestigious 2019 Realtor of the Year Award at the recent Minneapolis Area Realtors' Leadership Installation and Awards. The award is given each year to one of Minneapolis Area Realtors' over 8,000 members to recognize "outstanding volunteer service and commitment to community and homeownership causes."
Brooks is the broker and owner of the ten year old EXIT Realty Metro which shares office space resources with Mshale. He has served on the City of Minneapolis Real Estate Advisory Board and was part of the Minneapolis Area Realtors' first trade mission to Thailand. He has also served on MAR's Governmental Affairs Committee and the board of directors.
"From assisting local government with real estate matters to personally helping non-profits, he's always going above and beyond the expected," said Pat Paulson, a realtor and manager at EXIT.





(No Ratings Yet)


Loading...