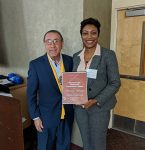 One of a handful Minnesota women that run their own full service advertising agencies, Rosemary Ugboajah, was honored with the Multicultural Marketing Achievement Award at the 23rd annual Multicultural Marketing Conference & Awards held recently in St. Paul, Minnesota.
The Multicultural Marketing Achievement Award is given annually during the conference to someone or a company that has exhibited commitment and excellence to multicultural marketing.
Ugboajah is the founder and president of Neka Creative, a brand development agency that describes itself as having a "soaring purpose – to reveal the wild brand promise in every organization with progressive authenticity."
"This is a wonderful surprise that I am grateful for," she said while accepting the award.
Prior to founding Neka Creative, Ugboajah had stints at Cargill and Target, among others and has also served on a variety of nonprofit boards including Art Buddies.
Ugboajah studied art and design at West Kensington College of Arts in London and advertising at the University of Minnesota. Her Neka Creative agency has been involved in many strategic and creative projects including Merwin LTC Pharmacy, Penumbra Theatre, Swanson Flo, The Commons, and branding the workforce system for the State of Minnesota.
"We were proud to honor Rosemary for her outstanding achievements in Multicultural marketing" stated Rick Aguilar, President of Aguilar Productions which produces the Multicultural Marketing Conference & Awards.





(No Ratings Yet)


Loading...