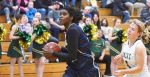 When Bella Murekatete, a 6-5 forward-center from Rwanda by way of Post Falls, signed her letter of intent to play for Kamie Etheridge at Washington State, she made history. She is believed to be the first Rwandan-born woman who will play basketball not just in the Pac-12, but the entire Division I level.
Wearing her Rwandan heritage on her sleeve and with an undeterred faith in God's plan, Murekatete came the U.S. at age of 14 and turned her dreams into a reality.
"The first thing they tell us is make sure everywhere you go you present one thing about our country — even if it's just saying I'm from Rwanda," Murekatete said. "I want to represent, and represent well. We have our own traditions and I don't want to forget them. So I am definitely representing wherever I go."
Murekatete isn't a household name for women's basketball fans in the U.S. but in her native country – where basketball is a huge deal – she is associated with the future of Rwandan basketball.
Since 2015, the WSU commit has been a part of the Rwandan junior national team and has dominated the international circuit. She has been selected to the All-Star Five at FIBA's Africa Championship tournament twice (2015, 2018). At the 2015 FIBA Africa Championship she averaged a mind-boggling 22 rebounds a game and even had a game where she brought in 37 rebounds against Tunisia
The day Murekatete signed her LOI with WSU she was up until 4 a.m. doing phone interviews with Rwandan media. Everyone back home wanted to hear from her.
For now, she is Rwanda's — and the state of Idaho's — best-kept secret in or around the college hoops world. Murekatete isn't just a dominating presence in the paint. With help from her head coach at Genesis Prep, Brandon Haas, and the staff of her AAU team, North Idaho Elite, Murekatete has diversified her game to fit the mold of a stretch-forward.
"She's got guard skills, man. She's legit," Haas tells Cougfan.com. "So when she gets up to that level where she needs to bring the ball up the court, she can do that. You need someone to score inside, she has incredible post moves. She's also one that when it comes to playing against someone that is taller or more skilled she is going to rise up to that challenge."
Last season Murekatete averaged 20.6 points and 18.6 rebounds per game and earned first-team all-state recognition. Statistics for this season were not readily available at press time.
So how did a rising star from Africa end up in Post Falls, the old mill town of 27,574 between Coeur d'Alene and Spokane?
MUREKATETE CAME TO the U.S. on an F1 visa, a nonimmigrant visa specific for education. However, a school must have permission from the state to allow F1 visa students, which eliminates the vast majority across the nation. Genesis Prep had previous experience in taking F1 visas for student-athletes, first in hockey and then via a veritable basketball pipeline built by their boys' basketball coach, Marsell Colbert.
Read more at 247Sports.





(No Ratings Yet)


Loading...