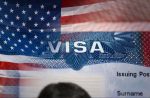 The Trump administration which has been blocked by the courts in its attempts to restrict immigration based on race or religion is now exploring ways to achieve its goals by going after visa overstays, according to a Monday Wall Street Journal report.
The report says the administration plans to target countries with high visa overstays, a move that will impact countries such as Nigeria, Chad, Eritrea, Liberia and Sierra Leone based on Department of Homeland Security data. The Department of Homeland Security said in a report in January that for fiscal year 2017, there were 701,900 non-immigrant visa overstays.
A rule that the administration is exploring will tell governments of countries with a high percentage overstays that it will become harder to grant visas to their nationals, or that visas granted will be for shorter stays, according to the report. No bans are being considered at the time however.
The Wall Street Journal quoted White House spokesman Hogan Gidley as saying the administration considers it a priority "to reduce overstay rates for visas and the visa waiver program—and it's well known that the administration is working to ensure faithful implementation of immigration welfare rules to protect American taxpayers."
The latest move by the administration is part of a broader strategy to reduce immigration numbers both legal and illegal.
Patrice Lawrence, director at UndocuBlack Network, which advocates for undocumented black people, in an interview with the Pacific Standard compared the latest Trump move to the president's Muslim ban as it targets the identities of the people and furthers his 'invasion' message that he has been pushing.
"I think it's a deliberate attempt to continue to paint that picture—because that's what makes people upset," said Lawrence. "It feels [to them] like brown and black people coming in to take over."

Born and raised in Kenya's coastal city of Mombasa, Tom is the Founder, Editor-in-Chief and Publisher of Mshale which has been reporting on the news and culture of African immigrants in the United States since 1995. He has a BA in Business from Metro State University and a Public Leadership Credential from Harvard's Kennedy School of Government. He was the original host of Talking Drum, the signature current affairs show on the African Broadcasting Network (ABN-America), which was available nationwide in the United States via the Dish Network satellite service. On the show, he interviewed Nobel laureates such as 2004 Nobel Peace prize winner, Professor Wangari Maathai, the first woman from Africa to win the peace prize and heads of states. Tom has served and chaired various boards including Global Minnesota (formerly Minnesota International Center), the sixth largest World Affairs Council in the United States. He has previously served as the first Black President of the Board of Directors at Books for Africa. He also serves on the boards of New Vision Foundation and the Minnesota Multicultural Media Consortium. He has previously served two terms on the board of the United Nations Association. An avid runner, he retired from running full marathons after turning 50 and now only focuses on training for half marathons.





(No Ratings Yet)


Loading...